Aston Martin has appointed former Ferrari chief executive Amedeo Felisa as its new CEO as Tobias Moers stands down after less than two years at the helm of the British performance car maker.
Felisa, who was already a non-executive director at Aston Martin, will be joined by former Ferrari colleague Roberto Fedeli at the Gaydon-based OEM when he joins as chief technical officer in June.
Former Mercedes-Benz AMG division CEO Moers, who officially succeeded Dr Andy Palmer at Aston Martin in August 2020, will remain within the business until July to help ensure a smooth transition to the new leadership team.
Targeting 'greater cohesion'
A statement issued by Aston Martin, now led by a consortium headed by executive chairman and Formula One racing team owner Lawrence Stroll, said the leadership changes had been made to "drive further and faster innovation and instil greater cohesion and effectiveness across the company."
It added: "The Board is grateful for all that Tobias has contributed during his time at Aston Martin, setting the company in the right direction, building new foundations and improving its operations."
In official documents, which also revealed the brand's Q1 trading performance, Aston Martin also revealed that it had appointed a new chief financial officer, with Doug Lafferty joining the business to replace Kenneth Gregor.
Commenting in the move to replace Moers, Stroll said: "Firstly, I would like to extend my thanks and appreciation for all that Tobias has achieved.
"He joined Aston Martin at a critical time for the company and brought significant discipline to its operations.
"The benefit of these actions is clear in the improved operating performance of the company and in our great new product launches.
"Now, there is a need for the business to enter a new phase of growth with a new leadership team and structure to ensure we deliver on our goals.
"Our new organisational framework will support the company to its full potential, foster greater collaboration and a more cohesive way of working, both internally and externally."
Q1 losses
Aston Martin's Q1 financial results revealed a loss before tax of £111.6m as its declined 116% further into the red from Q1 2021's £42.2m pre-tax loss.
Revenues increased 4% to £232.7m, meanwhile, as total wholesale volumes declined 14% to 1,168, signalling a focus on more expensive product lines, including the Valkyrie hypercar.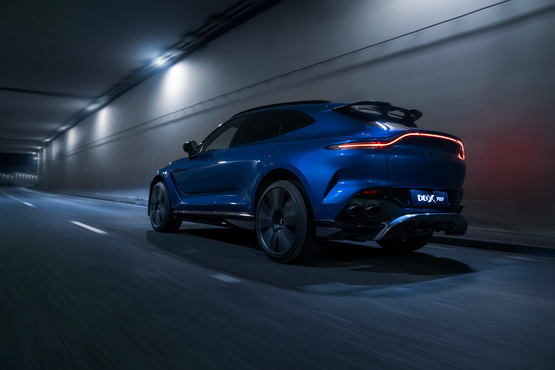 The brand revealed that it is on track to sell more than 6,600 cars this year, stating that its sports car production for 2022 was already sold out, and that Aston Martin DBX SUV orders are up 60% year-on-year.
Its trading update come three months after a set of 2021 annual financial results which revealed a 79% uplift in revenues and a near-halving of its pre-tax losses.
Stroll said: "We continue to make tremendous progress, now operating as an ultra-luxury brand and seeing exceptional demand across our product range with sports cars sold out for the year and DBX orders up 60%.
"Our most recently announced limited-edition, the V12 Vantage, was fully sold out prior to its official launch in March; and DBX707 is making headlines as the premier ultra-luxury performance SUV on the market, generating strong customer interest.
"We are poised to deliver good growth in 2022 and remain extremely confident in the medium and long-term prospects as we transform Aston Martin into the world's most desirable ultra-luxury British performance brand."