Millennials looking to buy used cars are more likely to search vehicles online by their monthly cost than any other age group, according to Motors.co.uk.
Research from the online car retail platform, conducted through the responses of over 1,000 in-market buyers, found over a third (34%) of those aged between 18-24 preferred to search for vehicles by monthly payment.
This compared with 26% of 25-34 year olds, 18% of 45-54 year olds and just 10% of buyers aged over 55.
However, over half (54%) of all used car buyers preferred to research by the outright price, compared with 20% searching by monthly costs and just over a quarter (26%) who stated they used both search criteria.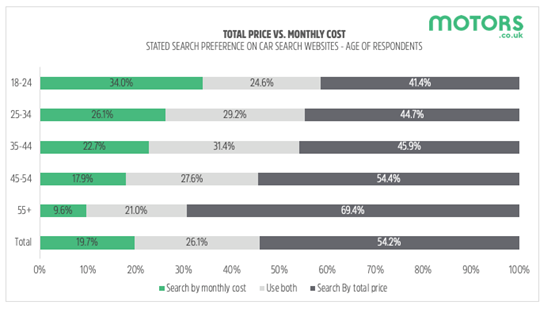 Motors.co.uk's director of marketing and business intelligence, Dermot Kelleher, said: "Our research echoes what we see consumers do in the property market, where overall price tends to be the starting point for any search even though affordability will be based on monthly repayments."
The research also revealed that the higher the price point of the car, the more likely the potential buyer was to search by monthly cost.
Over half (52%) of consumers looking for a vehicle worth more than £25,000 searched by monthly payment compared to just 40% of buyers searching for a vehicle between £5,000 and £10,000.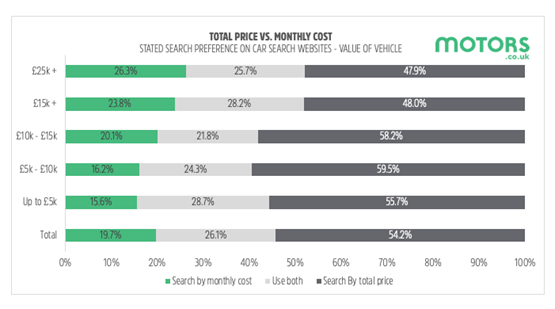 "The findings highlight how important it is for used car retailers to have competitive and flexible offerings in place to satisfy the demand from millennials and other buyers who use monthly costs as their main criteria for affordability," said Kelleher.
The survey, conducted by Insight Advantage, the independent research agency, polled the views of 1,003 car buyers over the course of August and will be published in the inaugural Motors.co.uk Consumer Insight Panel – Autumn 2018.