Franchised dealer profit figures for May show on average a loss of almost £10,000 per site.
The data from ASE shows that average 12-month return on sales is still slightly better than in May 2018, however, at 0.96% versus 0.92%.
Mike Jones, ASE's chairman, said: "A sizeable cause of the drop in overall performance is a fall-back in used car performance.
"Whilst retailers have now managed their stock back down from the March highs to the non quarter-end norm, this has come at a cost of margin as can be seen from the fall in overall return on investment.
"The recalibration of book values over the recent months has clearly had an impact and, now this has washed through, we can return to normal levels of profitability."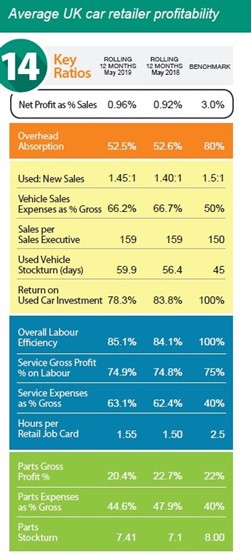 In May the retail content of overall aftersales hours sold fell below 50% for the first time, said ASE. At 48.6%, it has reversed some of the gains dealers had made in recent months.
Jones said this might be a blip, although he is concerned that the significant amount of warranty work currently needed by some brands is having a negative impact on retail work.
Jones said a better picture of Q2 trends will emerge with June's results next month.
ASE has noted "a significant amount of registration activity" at the end of May to reach targets, and Jones said the way these bonuses and stock are managed will have an overall impact on the year.