Honda emerged as the National Franchised Dealers Association's (NFDA) most improved franchised in the Summer 2019 Dealer Attitude Survey amid the roll-out of its ambitious network restructure.
The Japanese manufacturer registered a 57.7 points increase across all questions in the latest NFDA survey as franchisees answered its 53 questions during July, the same month that AM magazine's front page story communicated the brand's plans to reduce its number of UK franchised retail points from 155 to as few as 100 by 2022.
The result could be seen as vindication of the brand's new strategy - described by Swansway Garages director, Peter Smyth, as "commendable" and "a brave step" - which is driven by a push to achieve an average return on sales of 2% for its retailers.
Profitability was easily identified as a key theme in the results of the latest Dealer Attitude Survey.
NFDA director, Sue Robinson, said: "The survey outlined a number of dealers' concerns, in particular, surrounding current profit return and return on capital for their dealerships.
"We urge manufacturers to continue to work closely with their dealer networks to address these issues and provide the basis for the automotive industry to thrive despite the external challenges".
Honda finished 10th in the crucial ranking of manufacturers by their franchised car retailers' overall ranking of them as a partner, scoring 6.8-out-of-10 (up from 5.7 in the last survey), against an average of 5.6 across all 30 brands.
The 'overall' Dealer Attitude rankings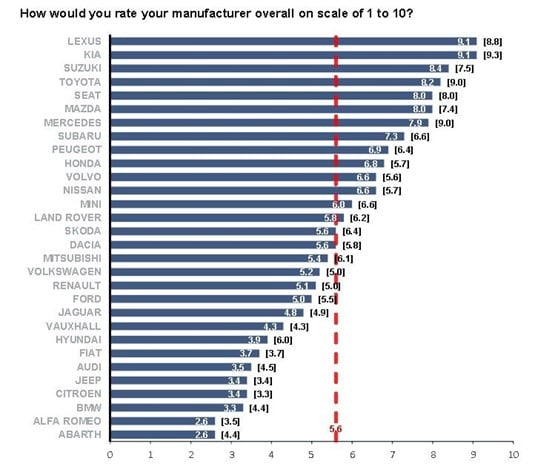 Topping this year's ranking of the crucial question were Kia and Lexus, who tied with a rating of 9.1-out-of 10, albeit with Lexus' score representing a 0.3pt rise from the previous survey, as Kia dipped by the same amount.
Following Kia and Lexus were: Suzuki (8.4), Toyota (8.2) and Seat (8.0), which tied for fourth place with Mazda as Mercedes-Benz dropped 1.1pts to finish sixth.
Bottom of the NFDA Dealer Attitude Survey pile this time around in the 'overall' ratings Alfa Romeo and Abarth brands tied with a lowly 2.3-out-of-ten rating.
Just above them the premium brands showed signs that they were starting to fall from their retailers' favour – despite, or perhaps due to, their recent registrations growth – with BMW finishing just above the two the FCA Group brands after attaining a rating of 3.3-out-of 10 (down from 4.4).
Citroen and Jeep tied to be joint third-bottom, with a shared score of 3.4, while Audi was the next premium brand loser in the results, dropping 1pt to score 3.5-out-of-ten.
As ever, the results can be closely tied to the profitability of franchisees' relationship with their manufacturer partner.
When asked to rate the "current profit return" from representing from their franchise, dealers scored Kia (8.4) and Lexus (8.0) best of all, while BMW tied with Alfa Romeo and Citroen with a bottom of the table score of 1.9, against an average of 4.7 across all brands.
Audi was second bottom with a score of 2.2, down from 3.5 in the last survey.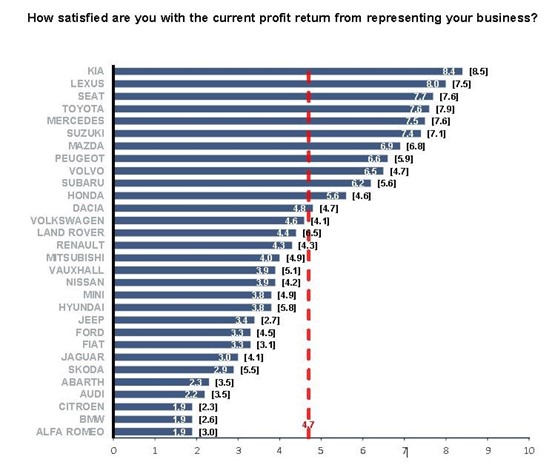 Record response from retailers
Across the entire list of 53 questions – which attracted 2,077 responses from 30 manufacturer brands – there was an overall average loss of 5.7pt in the Summer 2019 Dealer Attitude Survey.
Finishing just behind Honda in the survey's most improved rankings was Suzuki, which added 41.5pts across all questions, and Volvo, which delivered an additional 38.7pts this time around.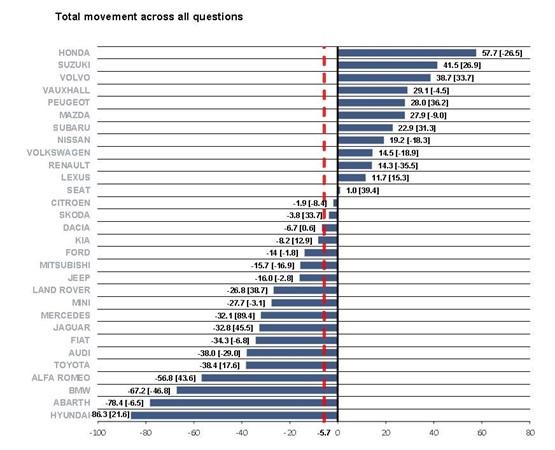 Robinson said: "It is extremely encouraging to see a record response rate for the NFDA Dealer Attitude Survey Summer 2019, which revealed a minor decline in dealers' satisfaction levels with the relationship with their manufacturers.
"This year's record response rate shows the value that franchised dealers place on the survey. In turn, it is encouraging to see that manufacturers use the survey to understand the main issues affecting their dealer networks.
"Despite a small decline, dealers remained fairly satisfied with their margins on used car sales demonstrating that this was a key area of focus during the first half of the year.
"Positively, average satisfaction levels with manufacturers' alternative fuel vehicle offering continued to increase."