Car retailers recorded an average decline in profit of 31.7% during June as the average sum earned declined by £13,000 to £28,000 during the month, ASE has reported.
ASE's monthly profitability report, compiled by chairman Mike Jones, revealed that while there were significant bonus earnings for retailers in the final month of Q2, 2019, the sum was markedly down on that earned the previous year.
The results had a marked impact on retailers' average earnings for the quarter following the £10,000 average loss suffered by car reatilers in May.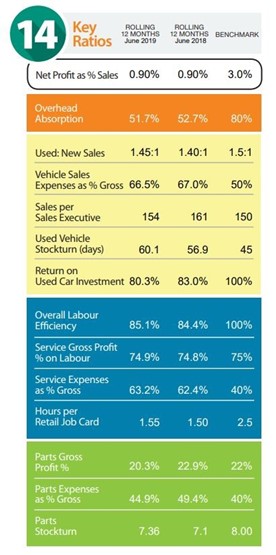 Jones said: "The fall in June profitability sees the overall profit for the quarter down by £18,000.
"In addition to the low level of general sentiment felt by all retail sectors, motor retailers have been hit by a tightening of the used vehicle market during the quarter with some significant residual value falls.
"This, along with the deferred recognition of some registration bonuses has depressed profitability."
ASE reported that the used-to-new ratio during June had shifted from 1.4:1 to 1.45:1 as retailers attempted to make up the lost new vehicle sales in the used sector in the 12 months to June 2019.
Used vehicle stockturn rose from 56.9 to 60.1 days, however, and return on used car investment declined from 83% to 80.3% during the period.
Jones said that while an improved stockturn would be desirable "there is still profit opportunity in used cars".
ASE's report revealed evidence of car retailers' efforts to drive their aftersales operations in a bid to improve profitability amid falling new car sales volumes.
Overall labour efficiency rose from 84.4% to 85.1% as hours per job card rose from 1.5 to 1.55 hours but the average service gross profit percentage on labour rose only fractionally from 74.8% to 74.9%.
Parts sales showed signs of delivering lower profitability in the period stockturn rose, meanwhile.
Jones said that car retailers should probably expect further market uncertainty in Q3 of 2019 as brands struggle once again to handle issues surrounding derogation, this time with the September 1 roll-out of RDE2 legislation.
He said: "The general levels of consumer and business confidence looks unlikely to improve prior to October as the politicians talk up the likelihood of 'no deal'.
"There will, however, remain opportunities in used cars an aftersales for retailers given the high level of registrations over recent years."