Manufacturers' websites need to do more to turn car searchers into test-drivers and to support their dealer networks.
Less than 5% of consumers who view the test-drive booking page of a carmaker's website go on to taking an actual test-drive, according to research of data gathered by automotive analyst Sophus3.
While car brands are stimulating interest in electric vehicles – visits to electric car pages in Q3 were up 36% year-on-year in the UK – the study suggests online engagement needs to improve, such as through live video, to encourage browsers to get behind the steering wheel.
"Test drives can be off-putting to time-starved consumers, many of whom may not trust the process. That's where interactive functions like live video chat can fill the gap, connecting consumers with a dealership online, where they can be given a virtual tour of a car and ask questions with the sales team," said Scott Gairns, managing director, Sophus3.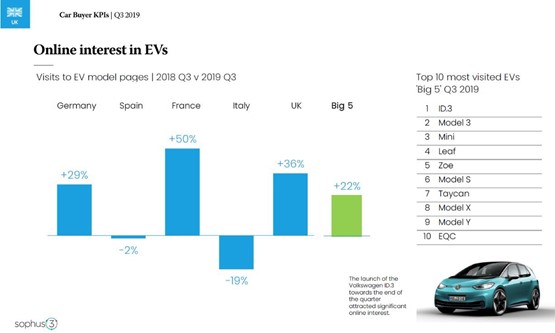 Sophus's study shows that for the first time more than half of visits to manufacturer websites in the UK were done through a smartphone, as use of other devices has declined.
In Q3 52% used their handheld device, 32% used a PC and 16% used a tablet computer.
"The continued rise in use of smartphones shows consumers are actually becoming more engaged with the process of buying a car, browsing on the go. The car dealership is in your pocket, accessed any time of day or night, rather than somewhere to visit at the weekend, which is time consuming and not always a positive experience," said Gairns.
Earlier this year Sophus3 found that car buyers interest in electric vehicles (EVs) peaked following disruptive protests by environmental activists Extinction Rebellion in London.
The data it collated on carmakers' website visits revealed a surge of interest in EVs in the UK following the combination of the high-profile campaign combined with the introduction of ULEZ emissions legislation in London and the arrival of the world's most high-profile electric car.
Sophus3, which analyses visitor journeys on virtually all car brand and major automotive publisher websites, found that online traffic to EVs in the 40-day period from the beginning of April was up 56%.
The 40 day period covered Transport for London's (TfL) launch of its ULEZ legislation (April 8), the Extinction Rebellion climate change protests (from April 15) and news of the arrival of the Tesla Model 3 into the UK (May 1).