Over a third of car retailers (34%) believe that half of the new cars sold in the UK will fall into the Government's ultra-low emission vehicle category by 2030.
The shift, which was deemed possible by the respondents to a new survey of UK car dealers by Close Brothers Motor Finance, would see Government deliver the commitments set out by its 'Road to Zero' strategy.
However, a greater proportion of car dealers who responded to the survey (41%) believe the 2030 target won't be met, before spelling out the changes needed to accelrate the adotion of alternative fuel vehicles (AFVs).
Almost all (97%) dealers feel more action is needed to meet the ambitions set out in the 'Road to Zero' strategy, with 80% stating that they would like to see better range and recharge time of electric vehicles, while the same proportion think consumers would need to see a reduction in the cost of the ultra-low emission cars.
Just 35% felt that higher taxes on fossil-fuelled cars are the answer to increasing low-emission cars.
Sean Kemple, director of sales at Close Brothers Motor Finance, said: "AFVs – and electric vehicles (EVs) in particular – have gone from being a sliver of the total market share to a significant proportion in a very short space of time.
"EVs now make up 8% of total car sales, up from just 2% in 2015. The consensus is that the tipping point has been reached, and 2019 will be remembered as the year AFVs went mainstream.
"The fact that this was achieved in against a background of economic uncertainty and continued confusion among consumers around fuel type is more impressive and significant. However, in order to continue this momentum, we mustn't take our foot off the pedal.
Next year is expected to bring the launch of more than 30 new battery electric vehicles, with Ford, DS Automobiles, Honda, Peugeot, Seat and Volkswagen all launching key new product into the market.
Progress is also being made in establishing the UK's charge point infrastructure.
Earlier this year Nissan claimed that the emergence of 1,000 more electric vehicle (EV) charge point locations than filling station forecourts in the UK was "a tipping point" in the shift to alternative fuel vehicles (AFVs).
However, in response to Close Brothers' survey, retailers laid out a number of developments which could further accelerate the rate of change.
They suggested: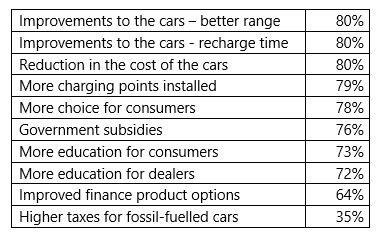 Kemple said: "Despite the overwhelming media buzz surrounding alternative fuel vehicles, with a good number of positive announcements throughout the year, we mustn't get carried away.
"Against a backdrop of positive news, it would be easy to think that the hard work is done, but the message coming from dealers- particularly independent dealers - is that we still have a long way to go to if we are to meet the government's targets.
"The next government must take this issue seriously and continue to make investment in electric vehicle infrastructure a priority."