Cox Automotive has predicted a 1.3% year-on-year decline in new car sales and 2.7% decline in used car sales volumes in Q1 2020.
Philip Nothard, Customer Insight and Strategy Director for Cox Automotive UK, made the forecast as he re-stated the automotive remarketing and stock funding giant's "extremely accurate" prediction of a 2.1% decline in overall vehicle sales transactions in 2019.
Nothard said that used car transactions will top 10 million for fifth year in a row by the end of next month, before issuing a new prediction that car retailers will sell 2.65 million new and used cars in the first three months' trading of next year.
"Our 2019 forecasts have proved extremely accurate, and are within less than 1% of the SMMT figures released so far," he said.
"While 10 million new and used car transactions represents a YoY decline, it's a fantastic achievement considering the headwinds that have buffeted the industry throughout the year."
Earlier this month the Society of Motor Manufacturers and Traders (SMMT) reported a 6.7% year-on-year decline in new car sales during October, leaving the market down 2.9% year-to-date as talk of a December General Election grew in volume and another Brexit deadline loomed.
SMMT used car data later revealed that the used car market had delivered almost 20,000 units during Q3 2018, but remained 0.8% behind the first three quarters of 2018.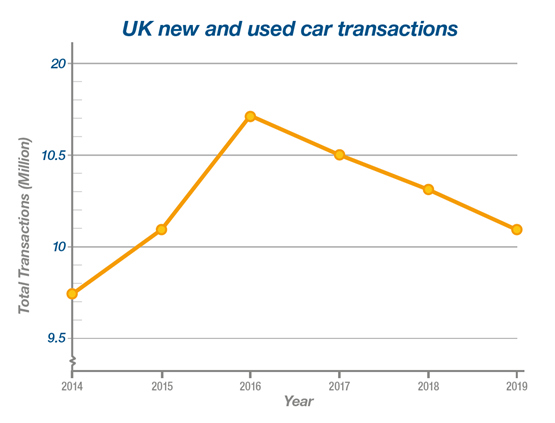 Cox Automotive's forecast for Q1 2020 predicts 692,000 new car registrations (down 1.3% YoY) and 1.96 million used car transactions (down 2.7% YoY) across the first three months of 2020.
Nothard said: "As we move into 2020, we know that CAFE legislation will begin to affect the market when it comes into force in January.
"Unlike WLTP, it's unlikely to have a dramatic effect on new car availability and may actually improve the supply of some 'greener' vehicles as OEMs look to reduce their overall fleet emissions.
"That said, the introduction of subsequent sets of green legislation has forced OEMs to invest heavily in developing greener technology to avoid fines, and they may look to off-set this with savings from distribution and dealer partnerships, squeezing profit margins for UK businesses."
While economic and political factors will affect the UK car market, with the results of the December 12 UK General Election and a potential January 31 Brexit deadline still looming, Cox Automotive's forecasts also reflect wider trends within the automotive industry.
Nothard concluded: "We're also seeing longer-term changes in the industry that will affect the highly competitive dealer landscape.
"Margin pressures, strong appetite for stock, the success of car supermarkets, and increased FCA regulation are all putting pressure on small independent dealers."
"In addition, the development of a sales approach that blends online and physical will be a challenge to some and an opportunity for others."
"With this in mind it's likely we'll continue to see consolidation in the dealer market during 2020, but what will emerge will be stronger, more profitable businesses that are ready to offer a flexible service to their customers."