The Light Commercial Vehicle (LCV) sector's 2.4% sales growth in 2019 has been described as "extremely encouraging" by the National Franchised Dealers Association (NFDA).
NFDA director, Sue Robinson, said that she took the the LCV sector's ability to "buck the trend" set by the Society of Motor Manufacturers (SMMT) data that revealed a 2.4% decline in 2019 car registrations as an indication that buyers understand that new Euro-6 diesel engines emit less CO2 than their petrol equivalents.
She added: "With all the economic and political uncertainty this year, it is extremely positive to see continual growth in the light commercial market."
In total, 365,778 new commercial vehicles hit UK roads in 2019, the third highest total on record.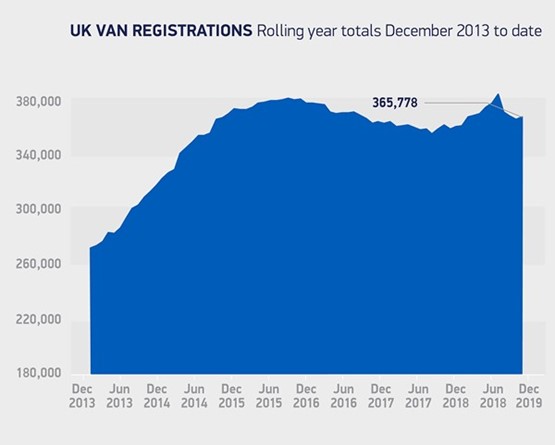 A total of 27,551 LCVs were registered in December 2019 alone as sales rose 7.9% year-on-year during the last month of the year, with 25,549 registered in the same period in 2018.
Registrations of vans weighing between two and 2.5 tonnes increased by 39.7%, with vans under two tonnes increasing by 7.7%, and those between 2.5 and 3.5 tonnes increasing by 4.2%.
The 4x4 segment saw no change in registrations, with 92 both this December and December 2018.
The only category to fall was pickups, from 3,745 in December 2018 to 3,701 in December 2019 – a 1.2% decrease.
The Ford Transit Custom was the best-selling van of December, with 3,600 units sold. The Mercedes-Benz Sprinter was the second highest seller at 1,931 units, with the Volkswagen Transporter closely following with 1,911 sales.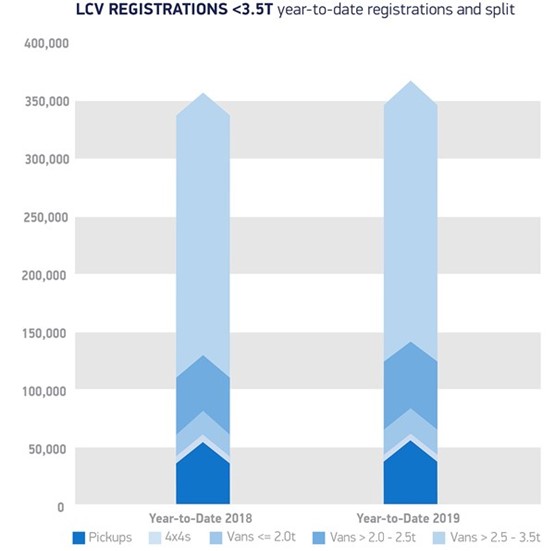 Robinson said: "It was encouraging to see registrations of light commercial vehicle increase by 7.8% this December, especially as December is traditionally a quiet month."
Mike Hawes, SMMT chief executive, said, "A healthy van market is good news for the industry, environment and exchequer and so the rise in 2019 registrations is very welcome.
"As we enter a new decade, however, we need this upward trend to continue if we are to address environmental concerns.
"The quicker these new vehicles become commonplace, the quicker their positive impact on air quality and climate change will be felt.
"Manufacturers will continue to invest in new, cleaner technologies but, ultimately, it is businesses that will determine the pace of change.
"Business positivity is essential to give companies the confidence to invest in their fleets."