Japanese and Korean manufacturers came out top for how retailers rated the competitiveness of their retail finance offers in the National Franchised Dealers Association (NFDA)'s latest Winter 2019/20 Dealer Attitude Survey (DAS).
Toyota was the clear leader with a near perfect rating of 9.1 out of 10, followed by Lexus with 8.7 and then Kia at 8.2. The average for all manufacturers was 6.7.
The research for the latest survey was carried out in January this year, with an overall response rate of 40% on average, representing a network size of 4,569 dealers across the UK.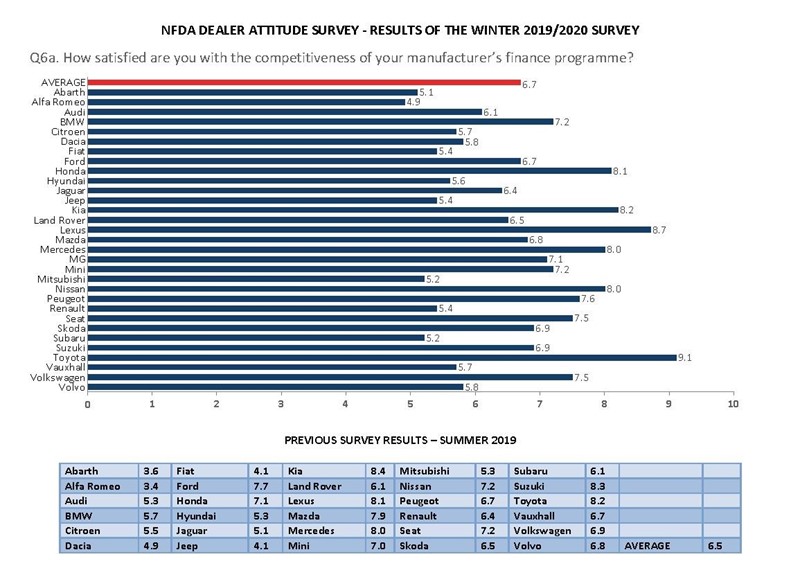 The overall ratings across all other manufacturers were still quite strong, showing most are posting competitive offers quarter-on-quarter, with the lowest at 4.9 with Alfa Romeo, followed by fellow FCA Group brand Abarth at 5.1 then Mitsubishi and Subaru in joint third bottom place with 5.2.
Toyota also did well in the ratings for how retailers view its approach to finance targets, with the Japanese brand leading the pack with 8.6 out of 10, followed by Suzuki and Kia in second place with 8.5 and then Mercedes-Benz with 8.3.
However, it was Mercedes-Benz that was the highest rated for the actual earnings potential on offer for retailers with a rating of 8.7, followed by Toyota and Lexus again in joint second place with 7.9 and then Nissan in third with 7.7.
Toyota's Q1 offers have a strong 0% showing with all but two from its model line-up available with no interest offers.
It's just the Land Cruiser and Proace that are running a higher APR of 5% until the end of March. The Aygo, Yaris range, Corolla range and Rav 4 Hybrid are all available for under £300 a month, much lower than Q1 average of £344 across all of AM's compiled representative examples (see below).
Toyota also has the strongest 0% offer range out of any of the other high-flyers from the latest DAS.
Mercedes' earnings potential will be helped by the volume the brand is pulling in so far this year compared with premium competitors, even though the brand is down YTD.
The finance house will be earning more interest overall too due to Mercedes' 6% APR across its range.
The lowest rate finance for Lexus is on the IS F Sport at 1.9% APR at £329 a month, while Kia is matching Mercedes for APR on most of its model range at 6%.
The Korean brand does have a couple of 0% offers that stand out as good deals for the XCeed and the Sportage, which are priced at £303 and £265 a month respectively.
AM's compiled representative examples: