Lexus UK emerged as the top-ranking car retail franchise in the UK in after dealers showed their satisfaction with the Japanese premium brand's business in the latest NFDA Dealer Attitude Survey.
The brand scored 9.4-out-of-10 (up from 9.1) in the question which asks its franchisees to deliver an overall rating out of ten to finish top in the Winter 2019/20 edition of the survey, as Mercedes came in second with 9.2 and Toyota and Kia joint third with 8.9 each.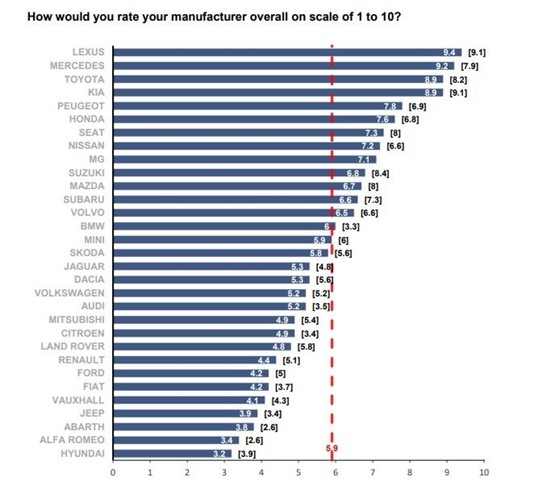 Across all questions, Lexus improved its score by 8.2 points after a strong finish in the Summer 2019 survey as the survey recorded an average improvement in manufacturers' overall survey scores of 12 points this time around.
BMW was the biggest winner in terms of swing, scoring 99.3 more points this time around.
"It was positive to see an improvement in overall average dealers' satisfaction levels with their manufacturers", said Sue Robinson, director of the National Franchised Dealers Association (NFDA).
She added: "It is encouraging to see that most manufacturers continue to take seriously their performance in the survey and work with dealers to address their networks' concerns. A healthy relationship between dealers and manufacturers is instrumental to the success of our industry.
"Despite a number of concerns, particularly with regard to profit return and return on capital, franchised dealers were generally satisfied with the ability to do business with their manufacturers on a day to day basis.
"It is vital that manufacturers and dealers maintain an open channel of communication to discuss the main issues affecting businesses and continue to cooperate to allow the automotive sector to thrive through a period of changes and challenges."
Some manufacturers are clearly feeling the strain in the challenging car retail sector, however.
Hyundai Motor UK issued a statement this morning (March 9) stating that it had already "put in place a series of initiatives which we hope will address the issues raised" by the survey after it finished last in the 'overall' ranking of UK manufacturer franchises.
Hyundai faltered to a 3.2-out-of-10 score, from 3.9 last time around, to finish below FCA Group brands Alfa Romeo (3.4) and Abarth (3.8), Hyundai (3.2).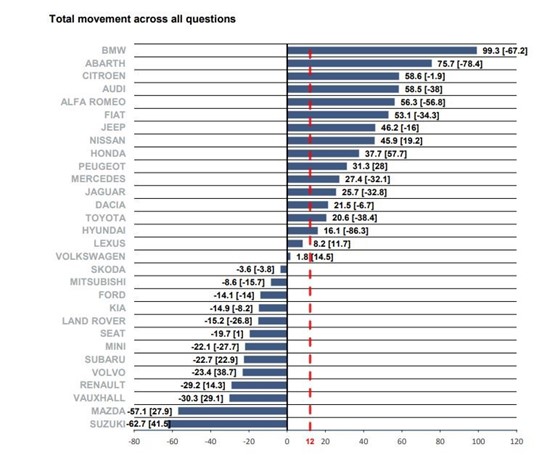 Hyundai actually gained 16.1 points across the entire survey, however, as Suzuki (down 62.7), Mazda (down 57.1) and Vauxhall (down 30.3) suffered the most significant downturn in scores from their retail partners this time around.
Commenting on Hyundai's bottom-placed ranking, however, Ashley Andrew, the managing director of Hyundai Motor UK, said he was "disappointed" to have seen a further decline in our NFDA rating in the Winter survey.
He said: "As we move towards an ever-changing future, we need to reshape our business model to focus on the company's long-term stability and profitability.
"As part of this strategy, we have made some decisions that have in the short term negatively impacted on our dealer partners.
"We recognise this and have listened to all of the concerns.
"Following some productive discussions with our partners over the last few months, we have now put in place a series of initiatives which we hope will address the issues raised and improve our partnership for the long term.
Mike Read, the managing director of Read Motor Group and chairman of the Hyundai Dealer Network's franchise board, said: "As the bridge between Hyundai Motor UK and its dealer partners, it's clear for us to see that 2019 presented a number of challenges for both parties.
"Since the concerns of the Network were formally raised a few months ago Hyundai Motor UK has worked closely with the franchise board to address them.
"Moving forward, a much more collaborative way of working, with clear and regular lines of communication, has now been developed to address the Retail Network's concerns throughout 2020.
"This year will be an exciting one for our brand, and both Hyundai Motor UK and the network are looking forward to working through 2020 in a genuine spirit of cooperation."