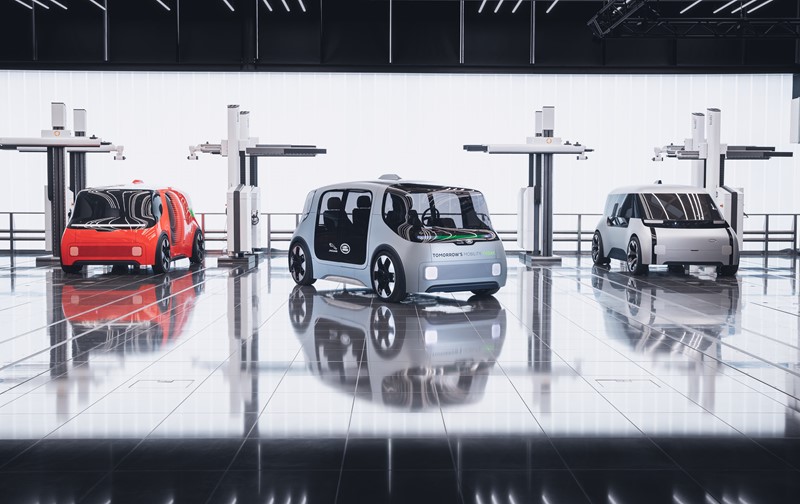 Five years ago, almost every manufacturer was making presentations about autonomous vehicles and how they would be on the road by 2020.
Even the sober Society of Motor Manufacturers and Traders (SMMT) forecast UK production of more than 100,000 Level 3 semi-autonomous cars by 2020, and thought fully autonomous Level 4/Level 5 cars would be in UK production by 2025 (see chart below).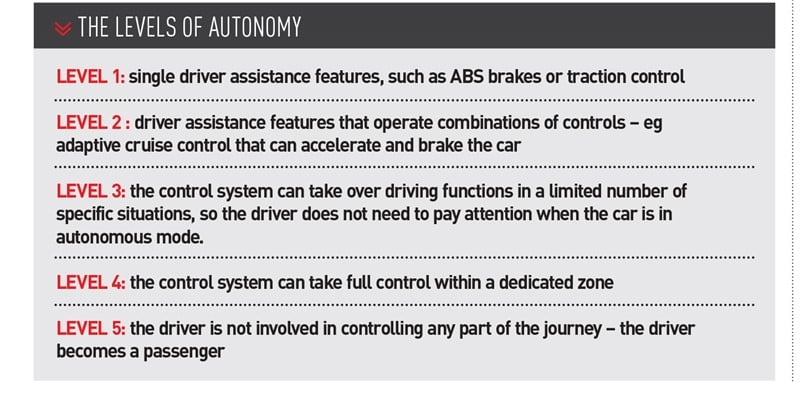 Meanwhile there was lots of speculation about new entrants: both Google and Apple were touted as future car manufacturers
that would do to Ford and GM what they had done to Nokia.
Yet today, we seem no closer than we were five years ago.
We now have cars that can creep forward in traffic jams under their own control, but a fully autonomous drive from, say, London to Leeds is still a distant dream.
All the proposed new manufacturers from Apple to Dyson have retreated, while Google now seems interested only in vehicle software.
Is this just the typical teething troubles of any new technology, or is there a more fundamental problem?
With the sole exception of Tesla, the car manufacturers are in full retreat.
$10 billion cost for the software
In November 2019, the CEO of Daimler said of Level 4/Level 5 autonomy: "There has been a reality check setting in here.
"Ensuring self-driving cars are 100% safe in crowded urban areas is proving to be a bigger challenge than engineers had assumed a few years ago."
In March 2020, he added that Daimler still saw a future for autonomous truck deliveries, given their predictable routes that could be carefully mapped in advance, but autonomous cars are now less of a priority.
In a recent presentation, VW said: "Autonomy is very hard and we don't see Level 4/Level 5 on the road in any practical timescale".
VW also said that a current car needs 100 million lines of software code.
An autonomous car would need 1 billion lines of code.
At an average cost of $10 per line, that is $10 billion for the software.
Then there is the hardware, which adds around $200,000 to the cost of each Level 4/Level 5 autonomous car.
There is also the fact that the computing power required by a current Level 4 prototype takes up most of the boot of a Passat-sized car and needs a huge amount of electrical power to run.
While the cost and size of computers will naturally fall (VW thinks the hardware cost will reduce to $10,000 by 2030), many in the industry now think that the progression from Level 2 through Level 3 to Level 4 contains a logical impossibility that no amount of development can solve.
Level 2 means the systems only assist the driver and Level 4 means the car is in control within a defined area (say a city centre).
However, Level 3 means the car is in control in certain circumstances (for example a motorway), but it relies on drivers being ready and able to take back control at any time.
The airline industry has established that a fully-trained pilot takes up to 10 seconds to be fully in control if the auto-pilot disengages, and one has to assume an even longer time for a driver who may be on their phone, arguing with the children, or even snoozing at 70 mph.
If there is a situation so severe that the autonomous control system decides it can't cope, how can the car safely motor on for perhaps 30 seconds while the driver re-engages with the situation?
As the CEO of ZF said in a recent interview, to cope with that scenario at the very point the autonomous control system has just disengaged: "It essentially must have the capabilities of a Level 4 system that drives without human input."
Hence, the industry is now working on what it calls Level 2+.
Authorities losing patience with Elon Musk
These are suites of advanced driver assistance systems (ADAS), which make the driver's life easier, but rely on the fact that the driver is engaged at all times.
For example, ZF has just launched coAssist at a cost price of under $1,000, which combines adaptive cruise control plus lane keep assist to enable the car to steer and accelerate/brake on a motorway.
It won't change lanes by itself in the first version, but that will be added in a year or so.
It might be something of an anti-climax, but the most likely applications for Level 4 autonomy are small shuttles running around airports, industrial complexes and dedicated zones within city centres.
These are all areas where top speeds are low, where every inch can be mapped and the vehicles can be "trained" by driving them repeatedly over each route in semi-autonomous mode.
Jaguar Land Rover (JLR) recently showed their take on this concept, which is impressive in its own way, but it is no F-Type.
And what of Tesla, the one company that stills trumpets fully autonomous driving?
Elon Musk, as ever, is sticking to his guns, but the authorities seem to be losing patience.
In February 2020, the US National Highway Safety Board told Tesla: "It's time to stop enabling drivers in any partially automated vehicle to pretend that they have driverless cars."
Systems like coAssist may not have the wow factor of an Elon Musk prediction, but it is probably as close to an autonomous vehicle as many of us are likely to get.
Author: David Francis