The COVID-19 pandemic has brought about a reduction in global emissions as the economy slowed and vehicles were kept off the roads during lockdown.
Cazana director of insights, Rupert Pontin, was keen to explore the longer-term prospects of emerging from the pandemic with cleaner air due to rising demand for alternative fuel vehicles (AFV).
Read-on for his latest market analysis:
Understanding how the changing view of reduced air pollution during the COVID-19 lockdown may have affected the automotive industry is critical as the UK government seeks to change the shape of vehicle ownership between now and 2035 when the ban on fossil fuel powered cars comes into effect.
New car registration activity has already highlighted the somewhat early demise of the diesel-powered car and the table below shows just how swiftly buying patterns have changed.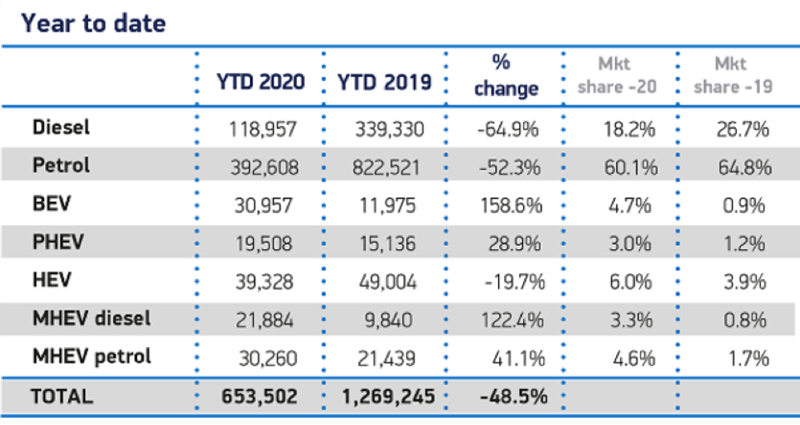 The chart, from the Society of Motor Manufacturers and Traders (SMMT) highlights the drop in diesel car sales so far this year and compounds the fall from grace of a fuel type once heralded as a saviour to pollution issues.
At just 18.2% total market share and a drop of 64.9% on 2019, one wonders how this fall from grace has been so swift, specifically given that, on paper, emission levels overall are no worse than a petrol car.
The biggest market gains are attributed to the Hybrid and BEV fuel types and this is undoubtedly a good thing in the medium term, as long as these cars are used appropriately, although the taxation loophole surrounding business users still needs to be properly dealt with by the government.
The question is: how are these new propulsion types performing in the used car market right now and what will happen going forward?
There is little doubt that technological advances in the last 18 months have made these cars more acceptable to the retail consumer and there is also the acknowledgement that hybrid cars are just a stepping-stone to a full BEV.
The used car market has been slower to embrace hybrid and BEVs in the large part because they are more complicated to both understand and sell.
It is often easier for a dealer to sell a petrol or diesel car, particularly the latter as diesel cars offer such favourable fuel usage benefits.
Sales staff often take the easy route, steering consumers to traditional fuel types rather than learning about the operational functionality of new technology which takes time and patience.
This is not conducive to helping retail customers embrace the new propulsion types.
The chart below focuses on what has happened with BEV and hybrid pricing.
This chart looks at two time periods and both hybrid and BEV pricing movements by age profile.
Of note is the change in the pre-reg position whereby the year to date figure shows a drop in pricing, but the week on week data shows a recovery for both fuel types.
This is likely to be due to the lack of new car availability and the subsequent reduction in the number of cars being pre-registered combined with retail consumers looking for new BEV and hybrid cars.
The other notable areas of demand appear to be for ex-PCP BEVs and ex-fleet hybrids where pricing week on week has risen.
This suggests that not only is stock short but demand is strong and consumer interest is clearly positive in reduced emission fuel types.
For some organisations the weakness in retail pricing may come as a surprise, although this should not be the case given the prevailing new car market conditions and the increase in popularity with the retail consumer.
As demonstrated in the first chart the volume of new car registrations is increasing and this is the required and supported long term trend.
With an increase in volume comes the need to find the balance between supply and demand and this is where these fuel types are at the moment.
Historically, both BEV and Hybrid cars have been in shorter supply than demand and the chart below compares the average percentage of cost new from June 2017 against June 2020.

It is clear that the whilst late plate petrol cars have improved in residual value terms, two and three-year-old cars have seen a reduction in price for both petrol and diesel.
The interesting insight lies with the hybrid and BEV data.
Hybrid cars have declined in value for late plate cars by 3ppts and by 4ppts at two years old although at three years old there has been an increase in residual values.
This scenario suggests that pricing on later plate cars is falling and in all likelihood this is because of an increase in volume coming to the market resulting in the need for more price flexibility.
At three years old there are less hybrid examples in the market but demand is still strong which it would seem has resulted in an increase in residual value performance.
In contrast, BEV residual value performance has improved across all ages and this signifies that retail consumer demand may have exceeded supply.
At this point, this is perfectly understandable and highlights greater consumer acceptance, although consideration must be given to the fact that this is newer technology at the moment and as volume increases, as it surely will due to the improved registrations, this propulsion type will follow hybrid and begin to slip towards the levels of traditional fuel types.
The chart shows that hybrid pricing is declining and the residual value performance as a percentage of cost new is falling towards that of petrol. In 2017, there was a 13ppt difference in favour of hybrid cars and this has now dropped to 6ppts.
This reflects the fact that the premium for hybrid cars is not sustainable as volume increases.
To summarize, there is no doubt that demand for both hybrid and BEVs is strong and the COVID-19 pandemic has highlighted the benefits of less pollution in our atmosphere to the retail buyer.
New car registrations for both fuel types continue to increase as technology advances to give better driving characteristics and ranges.
However, retail pricing is beginning to change to reflect the greater volume of product on the retail forecourts and that is particularly evident with Hybrid technology when compared to residual value performance in previous years.
As such, despite demand, retail pricing looks set to decline in the mid- to long-term to bring residual value performance more in-line with the traditional fuel types.