Car dealers across Scotland have been left "bitterly disappointed" by news that showrooms are unlikely to be allowed to re-open their doors to customers until April 26.
Businesses have been subject to more stringent COVID-19 'Lockdown 3' measures which forbid test drives and had sparked confusion about the provision of click and collect sales ahead of new guidance, issued yesterday (February 23), which stated car sales can be completed inside showrooms.
And yesterday's public address from Scottish First Minister, Nicola Sturgeon, once again set the nation's car retail sector behind its counterparts in Elangnd, with lockdown looking set to stay in-place for a further fortnight.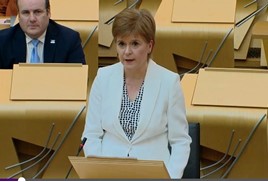 Sturgeon said the Scottish government's strategic easing of restrictions was "deliberately cautious" at this stage, but added: "In the coming weeks, if the data allows and positive trends continue, we will seek to accelerate the easing of restrictions."
Car showrooms are expected to join shops, bars, restaurants, gyms in the re-opening of non-essential retail, from April 26, however.
Sandy Burgess, the chairman of the Scottish Motor Trade Association (SMTA) told AM: "We are bitterly disappointed.
"Basically, the situation with members is that they are desperate to get back to business.
"We understand the logic being applied, we have to be cautious, but they are taking a one size fits all approach which is unfair in a business like ours.
"We are not a food or fashion shop where people go in and pick up products. We can manage everything totally from start to finish and it would be nice to have some recognition of that."
Research conducted by What Car? this week indicated that 95% of car buyers are content with the prospect of returning to COVID-safe car showrooms, with 92% trusting franchised retailers the most when it comes to keeping them safe during the pandemic.
Motor retail legal experts at Lawgistics, meanwhile, has revealed documentation that states car test drives are allowed in England during 'Lockdown 3'.
Burgess said there was no ambiguity on the status of test drives in Scotland, however.
He said that the February used car market was "softening" in a trend that he attributed to the lack of access car buyers are getting to vehicles they might wish to purchase.
Burgess said: "February is particularly quieter than January and we're putting that down to the lack of the ability of the customer to touch and feel the car and take a test drive."
Burgess said that the Scottish Government was "good at delivering sound bites" but branded Sturgeon's suggestion that Ministers had liaised with industry bodies over its lifting of lockdown as "not true at all".
He said: "In car retail, freight and travel I'm not aware there has been any consultation. Many sectors have been left scratching their heads."