Strike action proposed by COVID-19 hit employees at the DVLA's Swansea headquarters could be set to impact the car retail sector's own recovery period, Cox Automotive has warned.
In his mid-month market update Cox's insight and strategy director, Philip Nothard, indicated that signs of optimism among car dealer preparing for April showroom re-openings in England and Scotland could be dampened by the action.
Last week, workers at the DVLA voted 71.6% (from a 50% turnout) in favour of industrial action after the Swansea office was hit by over 500 COVID-19 cases since September.
Up to 2,000 of the 16-storey offices' 6,000 employees have been working on-site throughout the pandemic.
The UK's shadow transport secretary, Jim McMahon, said it was "shameful" that workers felt they had to strike because they felt "unsafe".
Nothard said that the vote for strike action was "certainly understandable considering the circumstances", but added: "The impact could come at a bad time for dealers who are counting down the days for showrooms reopening in early April."
Nothard said that the market was starting to show signs of renewed optimism as retailers make preparations for next months return to more normal trading.
He said that Cox's data indicated prices and demand for used cars was reaching the highest levels of the year so far.
Nothard added: "While supply volumes remain behind March 2020, there are signs of optimism within the dealer network with weekly upswings as retailers review, replenish and increase stock levels ahead of a physical reopening date.
"Increased demand has seen prices rise from lockdown levels; however, we are unlikely to see the same pent-up demand as showrooms reopen this time compared to last summer. Therefore, used car prices are forecast to remain stable."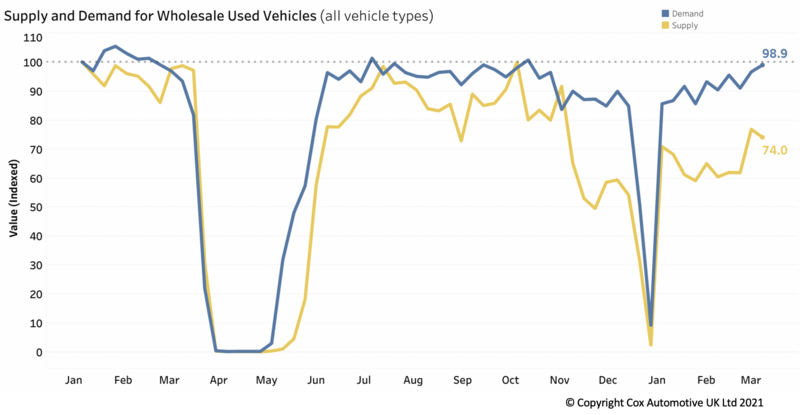 With the government providing a clear roadmap out of lockdown, retailers have been able to plan accordingly, causing an early rise in auction activity, Nothard said.
AM reported this week that the National Association of Motor Auctions (NAMA) had predicted strong prices and improved conversion rates at auctions in the coming months as the used car sector begins to recover from lockdown.
Nothard said: "Retailers have brought buyers back from furlough and are reviewing stocking levels ahead of the 5th April physical showroom reopening in Scotland and 12th April in England.
"While performance remains slightly behind March 2020 levels, there are signs of a return to normality with big month-on-month increases to key figures.
"The first 14 days of March compared to February have seen an increase to auction volumes (+12.48%), CAP clean performance (+1.72%) and first-time conversions (+8.93%)."