Growth in the value of used cars is beginning to stabilise despite signs of an acceleration in demand from consumers as the easing of COVID-19 'Lockdown 3' draws nearer, according to Auto Trader.
The latest data analysis from the automotive online marketing giant found that the average price of a used car increased 5.8% year-on-year on a like-for-like basis last week (March 8 to 14), marking 44 weeks of consecutive price growth.
But the rate of growth has continued to ease since the peak of 8.5% in mid-December, Auto Trader said, as retailers begin to ramp-up their pricing adjustments ahead of April's market reawakening.
Values are stabilising despite car retailers' increased demand for vehicles as they stock forecourts in preparation for the reopening of showrooms in Scotland (for appointment-based visits) from April 5 and England from April 12.
Auto Trader had previously reported that trade was already on the increase, with consumer confidence at a record high and the industry overall trading at over 90% of typical trading volumes.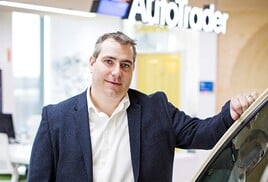 Director of data and insight, Richard Walker, said: "Since mid-January we've seen consumer demand accelerate, and with just a few weeks until forecourts can fully reopen, levels have far exceeded our expectations.
"Along with the strong sales performance already being recorded by most retailers, it gives us real confidence in a rapid recovery post-lockdown."
Walker added: "Strong price growth has helped to support robust profit margins for retailers and it's reassuring to see that the easing of growth rates we've been tracking since December has begun to stabilise.
"With increasing levels of demand in the market, we don't see any reason for big price corrections or adjustments in the coming weeks."
Auto Trader claimed that it attracted 15.8m cross platform visits last week – a 26% increase on the same period in 2019.
Advert views also increased 26%, whilst the average time spent on site increased 22%, it said.
Car retailers are starting to adjust their pricing in greater numbers as the market starts to reawaken, possible in a bid to capture pent-up demand early.
Auto Trader said that an average of 2,580 retailers made daily price adjustments last week, which is just 45 more than the same period in 2019.
A total of 17,475 vehicles were repriced during the week, more than 3,000 more than two years ago, but "consistent with the significantly higher volumes of stock currently on Auto Trader", it said.
The average reduction was £247, £61 less than the 2019 average.
Auto Trader said that the average price of a used diesel car increased 8.1% YoY last week, as used petrol prices grew a more conservative 5.2% YoY.
Yesterday, Cox Automotive's insight and strategy director, Philip Nothard, indicated that signs of optimism among car dealers preparing for April showroom re-openings in England and Scotland, but said values were set to stabilise.
Nothard said: "While supply volumes remain behind March 2020, there are signs of optimism within the dealer network with weekly upswings as retailers review, replenish and increase stock levels ahead of a physical reopening date.
"Increased demand has seen prices rise from lockdown levels; however, we are unlikely to see the same pent-up demand as showrooms reopen this time compared to last summer. Therefore, used car prices are forecast to remain stable."