Electric vehicle (EV) adoption will have to be accelerated still further if the EU is to meet its 'Green Deal' of cutting CO2 emissions from cars by 55% by 2030, a whitepaper report has found.
Research carried out by Boston Consulting Group (BCG) found that the production of batteries and their precious metal constituent parts would have to increase 10-fold in less than a decade, government incentives stepped-up and legislation introduced to bring the 'ICE age' to an end.
BCG said that Europe was on track to meet its 2050 net-zero emissions climate target - from a 1990 baseline of 433 million metric tons of CO2 equivalents - ahead of the US and China, but its interim 2030 target looks unlikely to be met because of the emissions of an existing car parc of petrol and diesel vehicle.
In its 'Why Electric Cars Can't Come Fast Enough' whitepaper, BCG said: "Steering the fight against climate change on course will require most markets to speed up the EV transition even further.
"For the EU to achieve its Green Deal targets, for example, it would need to reduce light-vehicle emissions by 90% by 2043—seven years sooner than currently forecasted—to compensate for its car parc emissions.
"This can be accomplished by further accelerating the adoption of zero-emission vehicles while strengthening the incentives to remove gas and diesel guzzlers from the roads.
"But it will also require transformational change and a fundamental shift in business models for most automakers."
BCG modelled a three-phase path to the widespread adoption of EVs globally.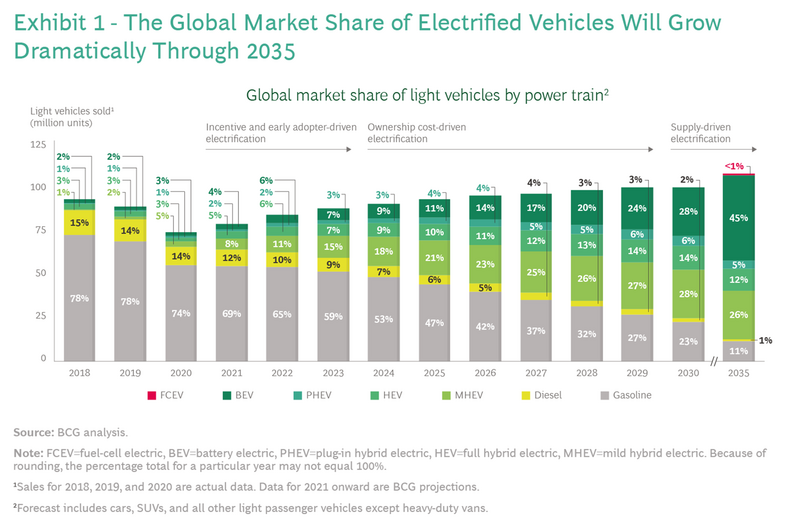 Phase 1 should see government incentives drive adoption of electrified vehicles through the next few years, at which point we project that electrified powertrains will exceed 25 million units sold annually across light vehicle segments.
By 2023 it suggested that a number of OEM programs reaching high-volume production – and battery costs falling — will result in more BEVs will be able to achieve parity in five-year total cost of ownership versus ICEs, even without government incentives.
In Phase 2 consumers will begin converting to electrified vehicles "en masse" by 2030 as the cost advantages of electrified-vehicle ownership will be clear
It projects that battery pack costs will have dropped from $150 per kWh in 2020 to $75 per kWh and that the global market share of BEVs will rise to 28%.
BGC's Phase 3 model sees supply-driven electrification.
By the end of this decade supply, rather than total cost of ownership, will drive EV adoption as several OEMs start exiting the highest-volume ICE programs, it said.
This will result in global BEV share will rising to 45% in 2035, reaching 54% in the US, 58% in China, and 62% in the EU.
Despite the seemingly orderly roadmap, however, BGC said that was clear in communicating the various challenges which need to be addressed to cut global tailpipe emissions and said more would need to be done to meet stringent climate goals in Europe.
"The (EU's) Green Deal calls for a 55% reduction in emissions from the EU's car parc by 2030 from a 1990 baseline of 433 million metric tons of CO2 equivalents—and more than a 90% reduction by 2050," it said.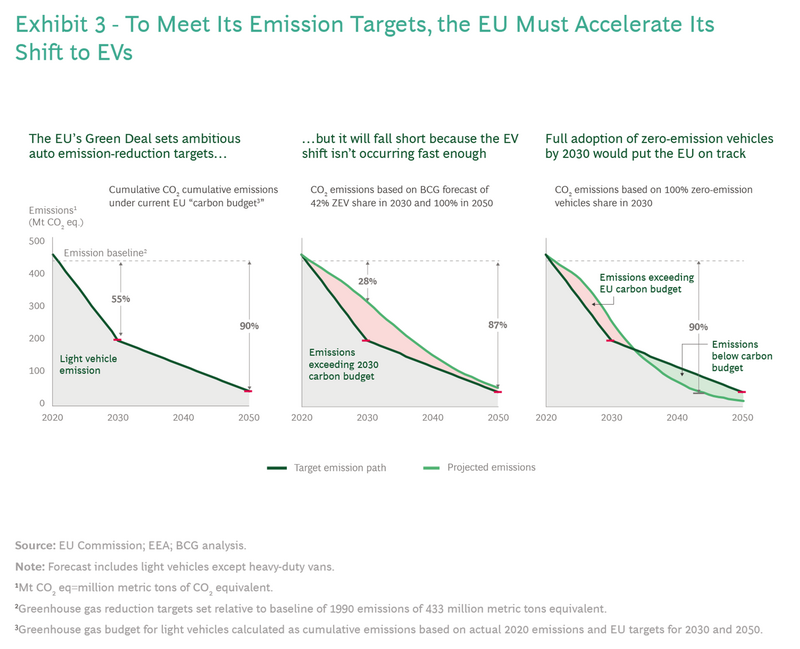 "Based on our estimate that zero-emission vehicles will account for 42% of new sales in 2030, gasoline- and diesel-powered vehicles will make up 65% of the EU's car parc at that point.
"As a result, we estimate that the EU passenger vehicle sector will only be able to reduce greenhouse gas emissions by 28%.
"We expect the EU car parc will meet the 2050 net-zero goal because by then almost all vehicles on European roads will be zero emission, with the few remaining ICE vehicles minimizing emissions through e-fuels.
"But over the two decades in between, the EU's automotive sector will have been pumping far more carbon into the atmosphere than budgeted.
"This accumulated CO2 will make it difficult for the EU to fulfil its objectives in mitigating global warming without introducing additional measures during the current decade."
To read Boston Consulting Group's (BCG) 'Why Electric Cars Can't Come Fast Enough' whitepaper in full, click here.