Used car retailers have experienced a May sector "down on hopes and expectations" with average values down by 0.7% as a result, Cap HPI has reported.
The valuations specialist said many dealers were reporting business levels at around 70% of where they had forecast it to be, describing the scenario as being "by no means a disaster" but "a little concerning" for many.
Cap HPI director of valuations, Derren Martin, said: "There has been a softening of the market, but with new car supply as it is I don't see values declining significantly. There's just not enough cars out there to trigger a value decline.
"I expect things to stay pretty much as they are until at least September.
"The market has set a new level for used car pricing and I don't see that changing."
Cap HPI's head of forecast strategy Dylan Setterfield joined AM to discuss 2022's used car value trends in a recent episode of the AM News Show podcast, which can be viewed on Youtube.
May's 0.7% average value decline (at three years, 60,000 miles) follows 2.1% declines, equivalent to over £370 in each, in both March and April.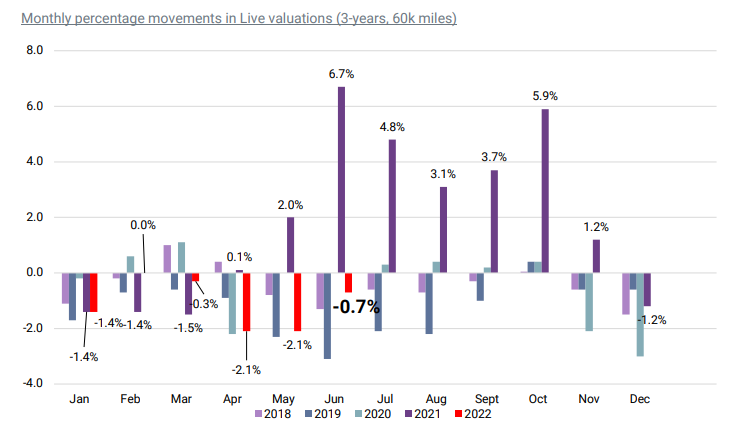 In its monthly car market overview Cap HPI said there were two main schools of thought on how car retailers should handle the current depressed retail market.
While some are reducing advertised prices on more plentiful mainstream cars and those that have been in stock for an unpalatable number of days, others are holding firm after concluding that adjusting advertised prices will not persuade people to part with their money in the current climate, it said.
Cap HPI's research suggested that franchised dealers have been performing better than their car supermarket and independent counterparts in recent weeks, having generated some part-exchanges from the albeit reduced new car market.
It added: "Overall, the retail market is best described as down on hopes and expectations, but relatively steady and improved on where it was in April.
"There have been some reductions of advertised prices, but these are not seismic, and they still sit well ahead of where they were a year ago.
"There are still over 70 models with used retail values (at 1-year old, with 10,000 miles) sitting above their original cost as a new car, and a real mix of models, from Porsches to Dacias."
Cap HPI's wholesale pricing data showed that values had declined by an average of 4.2% (at 3-years, 60,000 miles) over March and April, with some cars dropping by over 10% in the last three months.
Earlier this month AM reported that wholesale used car values had declined for a fourth successive month at BCA remarketing centres across the UK, with chief operating officer Stuart Pearson asserting that "we have seen the market soften".