Jaguar Land Rover (JLR) is showcasing its efforts to reinvent an icon with the official unveiling of the new Land Rover Defender 4x4 at the Frankfurt Motor Show.
Order books have now opened for the modern iteration of the Defender, with prices for the Defender 110 starting from £45,240.
Defender 90 and Commercial pricing and deliveries will be confirmed at a later date but JLR revealed that the Defender 90's guide price will be around £40,000 with Defender Commercial guide pricing from £35,000 (plus VAT).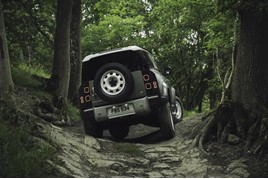 Gerry McGovern, chief design officer at Land Rover, said that the new Defender is "respectful of its past but is not harnessed by it".
He added: "This is a new Defender for a New Age. Its unique personality is accentuated by its distinctive silhouette and optimum proportions, which make it both highly desirable and seriously capable – a visually compelling 4x4 that wears its design and engineering integrity with uncompromised commitment."
Ahead of the launch of the new Defender, AM contributor David Francis took a look at the importance of the new Defender to the Jaguar Land Rover retail network in a Guest Opinion feature earlier this year.
While Jaguar's new car registrations have delivered a 9% YTD (22,263) increase, with Land Rover up 2% (46,245) so far in 2019, JLR managing director Rawdon Glover is keen to see his retailers benefit from the launch of the new model after challenges in the market contributed to delays in the OEM's Dual Arch concept CI roll-out.
With a choice of both advanced petrol and diesel engines, and a plug-in hybrid electric vehicle (PHEV) powertrain joining next year, there is a variety of drivetrain options available to help drive the new Defender's potential for sales success.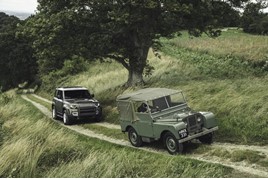 A four-cylinder P300 and a more powerful six-cylinder P400 engine – featuring efficient Mild Hybrid Electric Vehicle technology – make up the petrol-powered options at launch
Meanwhile a pair of four-cylinder diesels – the D200 and powerful D240 – make up the diesel line-up.
Both diesel engines are said to deliver fuel economy of 37.2mpg (7.6 l/100km) and CO2 emissions of 199g/km (NEDC equivalent).
Among the new technology introduced in the Defender comes the introduction of JLR's new Pivi Pro infotainment system, featuring what the brand describes as its "next generation touchscreen", offering "more responsive and user-friendly, requiring fewer inputs to perform frequently used tasks".
In addition, the new Defender takes Software-Over-The-Air (SOTA) technology to a new level, with 14 individual modules capable of receiving remote updates.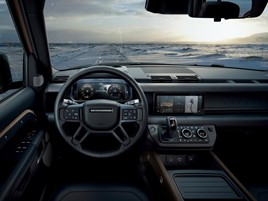 By downloading data while customers are asleep at home or in far-flung locations, the new Defender will get better with age: as electronic updates cascade down to the vehicle immediately.
Nick Rogers, executive director, Product Engineering, Jaguar Land Rover, said: "We've embraced Defender's stunning capability and minimalistic, functional interior to reinvent the icon for the 21st century.
"New Defender gives us the licence to do things differently, to push the boundaries and do the unthinkable, without ever losing the character and authenticity of the original.
"From the start we had an absolute obsession with functionality beneath the skin, from choosing the right materials through to state of the art connectivity.
"The result is not only the most capable Land Rover ever made, but also a truly comfortable, modern vehicle that people will love to drive."