Volkswagen UK has opened its order books for its flagship ID 3 1st Edition electric vehicle (EV) ahead of deliveries this summer – with prices starting at £38,880 (before the Government's ULEV grant).
A total of seven derivatives of the long-awaited EV will be available to customers from this autumn, but the launch 1st Edition is based on the rear-wheel-drive ID 3 Pro Performance trim, with a 58kWh battery and 260-mile range and a host of range-topping features.
The official opening of UK order books comes days after the model's availabiity in other parts of Europe and allows customers who have already placed their £750 deposit to specify and confirm their car.
Volkswagen UK managing director, Andrew Savvas, who is the subject of a profile feature in this month's digital edition of AM magazine, said: "The ID 3 is one of the most important cars Volkswagen has ever launched – and the British public seems to be as excited about it as I am.
"Here, an overwhelming number of customers signed up as pre-bookers last year and placed a £750 deposit, even before they saw the final ID 3 unveiled.
"In fact, during the first few hours of pre-booking demand was so unprecedented it momentarily crashed our website. It has created a huge stir."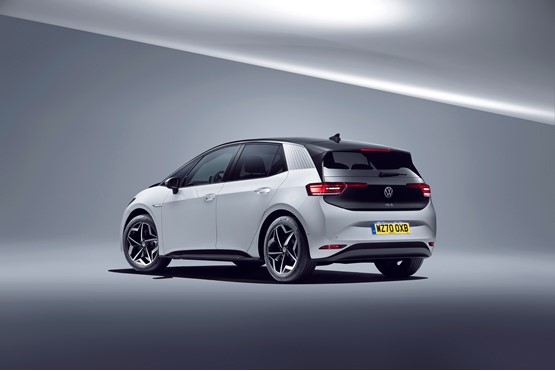 To mark the ID 3 1st Edition apart from future ID 3 variants it features exclusive badging and a two-tone honeycomb decal, alongside an equipment list, featuring: LED headlights; 19-inch Andoya alloy wheels and tinted rear windows; a black-coloured roof; side skirts; boot and rear spoiler.
Several driver assistance systems are also included, with Adaptive Cruise Control, Front Assist and Lane Assist included in the package, as well as parking sensors and a rear-view camera.
Inside, a 10-inch infotainment system with natural voice control function complements a fully digital dashboard, while ambient lighting with 30 colour options allows the driver to change the mood of the interior to their preference.
The ID.3 1ST Edition also launches with the industry-first ID.Light – a dynamic LED band the width of the interior windscreen, which changes its pattern and colour to supplement and support Navigation signals, charging status, driver assist technologies or the natural voice control.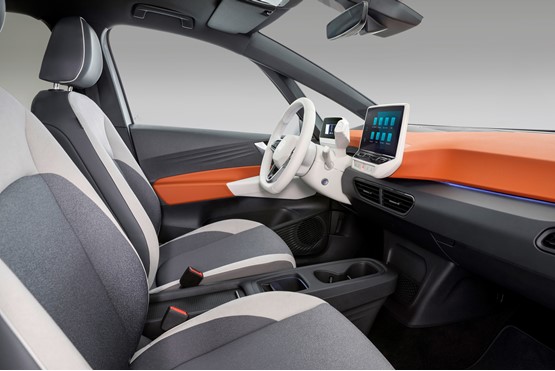 Personalisation options available for the ID.3 1st Edition include four paint colours – Moonstone Grey (standard), Manganese Grey, Glacier White and Makena Turquoise (all £620) – and three interior colour schemes: white and black, white and orange, and black.
Savvas said: "The ID 3 symbolises Volkswagen's new electric future, and that future is here – now.
"At the point at which it leaves the factory in Zwickau, Germany, the ID 3 can lay claim to being the world's first mass-produced CO2-neutral car.
"Producing the ID 3 in this way shows that we are very serious about sustainability as we help to safeguard our world for future generations.
"This is only the beginning, and I'm grateful to our UK pre-bookers for their interest and faith in our brilliant new car. Very soon you will be among the very first people in the world to drive an ID.3."