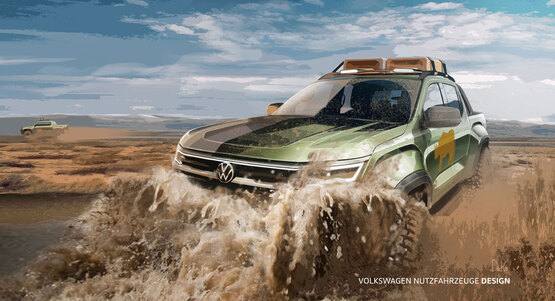 Volkswagen has released teaser images of the new Amarok, which is expected to be revealed next year and arrive in dealerships by 2023.
The new model will be developed alongside the Ford Ranger, as part of a wider commercial vehicle collaboration agreement between Ford and VW.
First launched back in 2011, the Amarok proved popular in the UK, selling almost 4,000 units in its last year of production.
The Amarok was discontinued in 2020 when Volkswagen Commercial Vehicles confirmed that it was re-purposing its Hanover factory, where the Amarok was built, to build the new ID Buzz electric van. The new Amarok will be built by Ford.
VW says the vehicle will have significantly more driver assistance systems and will "impress" customers with its connectivity. It claims the new pick-up will feature innovations that have not been seen before in the segment.
There are few technical details available, but VW has suggested the new Amarok will feature a V6 engine like its predecessor.
"The Amarok makes possible what in many places appears impossible at first sight: it makes things easier for its users by assisting them in their work and everyday lives," said Dr Lars Krause, brand board of management member for sales and marketing at Volkswagen Commercial Vehicles. "That's because the Amarok provides solutions that enable our customers to achieve their goals – especially when things get difficult."
The first vehicle to launch as part of Ford and VW's new alliance will be a Ford city van based on the Caddy.
VW says the new Amarok will be available to order in late 2022.