Chorley Group chairman Andrew Turner is preparing for a fund-raising trek to Everest Base Camp after being awarded an MBE in the Queen's Birthday Honours for services to the local community.
The founder of the £130m turnover multiple UK Best Dealerships to Work For awards winning group is also the founding chairman of the 'Inspire' Chorley Youth Zone and has taken a lead role in securing more than £2.5m of investment to guarantee its long term success.
And in October 59-year-old Turner plans to trek to Mount Everest's Base Camp in a bid to raise £25,000 in further support of the cause. Click here to sponsor the fund-raising effort.
Talking to Lancashire Business View about his MBE award, Turner said: "I am truly humbled to receive this honour — it really should be shared with all the people who have worked alongside me over the years at both Chorley Group and the Inspire Youth Zone.
"Their passion and hard work are the things that drive me on."
The Youth Zone is a purpose-built facility for the borough of Chorley's young people (aged eight to 19, and up to 25 for those with disabilities) to enjoy a wide variety of events and activites and was officially opened in May last year.
Young people from across Chorley are given access to the facilities for a cost of £5 for an annual membership and 50p per visit.
The project attracted a membership of more than 5,000 young people in its first year.
Turner said: "I am particularly delighted that this honour will put the spotlight on the need for a centre like Inspire which does so much to support young people in our community."
As well as his work with Inspire Youth Zone, Turner has also been actively involved with MENCAP and once raising enough funds to cover Chorley MENCAP's entire running costs for a full year.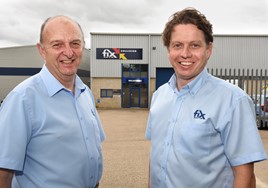 Fix Auto Buckingham's Vehicle Damage Assessor Graham Ayres has was also among those named in the recent Queen's birthday honours.
The 64-year-old will receive the British Empire Medal from Northamptonshire's Lord Lieutenant this summer in recognition for his 43-year career as a retained firefighter.
Ayres said: "It's been an incredible 43 years. I have lived the best of both worlds, working in the car repair industry and the fire service for practically my entire working life."
He added: "To say I was totally shocked when I received the news I was being named in Her Majesty's birthday honours is an understatement. That shock instantly turned to pride. It's a huge honour."
Being a retained firefighter means Graham works alongside full-time firefighters and is on call from Brackley Fire Station whenever he's not working at Fix Auto Buckingham.
He first joined the service in 1976 and is believed to be one of the longest serving firefighters in the country. His son, Jonathan is also a retained firefighter and the two are often called out together.
Richard Taylor, who owns Fix Auto Buckingham, said: "Graham has been a huge asset to the business since the day he started eight years ago.
"He's a really humble guy. While we all know about his extra duties as a firefighter, it's not something he really shouts about.
"He just goes about his business helping to save lives whenever he's not here.
"Word instantly spread throughout the business that he'd been named in the recent birthday honours by the Queen and we all couldn't be happier for him. It really is deserved."