Volkswagen UK has appointed Škoda UK head of planning and supply Owen Shepherd as its new head of aftersales after Kevin Rendell became the Czech brand's head of sales.
Shepherd begins his role with the VW brand today (July 1) after 17 years with the Volkswagen Group in the UK, including periods as Škoda's head of business, service and parts, group parts operations and planning and supply.
He replaces Rendell who has been appointed as Škoda UK's head of sales operations after more than five years in the post at VW.
VW said that Shepherd had successfully helped to manage the Czech brand's UK operation through WLTP, RDE and Brexit and had also led the business-wide COVID-19 planning committee throughout 2020.
In his new position, Shepherd will oversee all of Volkswagen's aftersales operations – including its new All-in from Volkswagen initiative – areas of business including parts and accessories, and other, customer care-focused activities.
Shepherd said: "The world of aftersales at Volkswagen is changing – on the one hand, we have exciting and revolutionary models such as the ID.3 and ID.4 bringing a completely different set of needs and customer care requirements, and on the other, we have All-in caring for the enormous pool of customers driving internal-combustion-powered Volkswagens aged between 36 and 72 months.
"I couldn't be more thrilled to be joining Volkswagen at such an exciting time for the brand."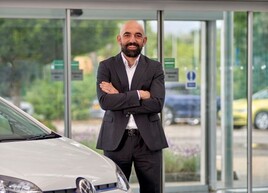 Volkswagen UK director, Andrew Savvas, said: "Aftersales is a world of possibility at the moment for Volkswagen, with All-in and the ID. family of models presenting fantastic opportunities.
"I am confident that Owen will maximise those opportunities, while leading Volkswagen's aftersales operations effectively and keeping Volkswagen at the forefront of the industry with its aftersales initiatives.
"I am excited to have Owen on the Volkswagen Passenger Cars team – with the ongoing and upcoming developments for Volkswagen's Aftersales operations, I know that with Owen's experience, knowledge and expertise, aftersales is in very safe hands.
"I can't wait to see what he will bring to the role."
Commenting on Rendall's move, Savvas added: "Kevin's tenure as the head of aftersales saw the brand enter a new era of electro-mobility, digitalisation and unprecedented customer focus, laying a solid foundation for the brand's next steps.
"We know he will excel in his new role at Škoda, and I wish him all the best."