To say that Volkswagen's ID electric vehicle (EV) range is important to the fortunes of its franchised retailers is something of an understatement.
The success of the ID.3 hatchback, and ID.4 crossover set to arrive at the end of this year, will be a central part of the German brand's efforts to retain network profitability following a return-on-sales rise from 0.67% in 2016 to 1.14% in 2018, before a dip to 1.08% in last year's challenging market.
Following VW's decision to cut 1% off the margin earned by its retailers at the turn of this year and the impact of COVID-19 coronavirus that will be no mean feat.
Reports that the ID.3's scheduled summer arrival had been jeopardised by software issues would have set alarm bells ringing. But, in his first interview since becoming Volkswagen UK's boss, Andrew Savvas, who joined the brand as successor to Alison Jones in December 2018, insisted that the UK plan for the ID.3 launch remains on track.
"That timeline hasn't changed," said the affable Aussie, who declared that his retailers were "pumped" for the arrival of the new EVs. Savvas assured AM that there would be more than enough ID.3 allocation for its initial crop of customers, with "plenty of interest coming through", despite the widely-reported issues.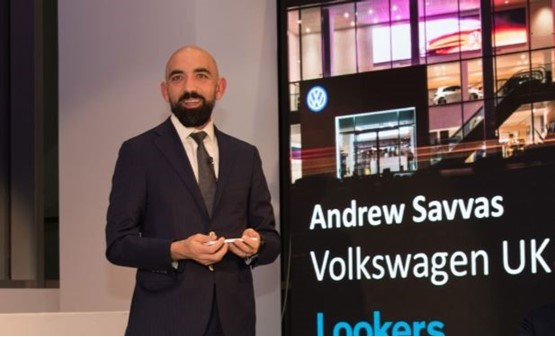 The car is just the first of a rapidly growing family of EVs, however, as VW looks to make good on its target of produce 1.5 million EVs by 2025, by which time it will have invested £11 billion in development.
Savvas said: "ID.4 is planned to arrive towards the end of the year and the first month in 2021 and then we'll welcome the arrival of two more new ID models in 2021, so we'll have four in the ID range by the end of next year."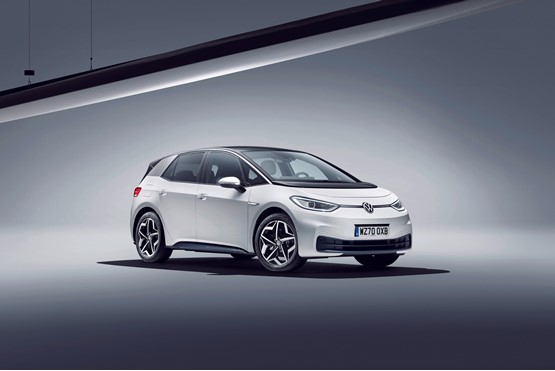 In the UK, Volkswagen's registrations volumes stayed virtually flat in 2019, declining just 1.16% to 200,771 (2018: 203,133), but, by the end of February, its 2020 registrations were up by 4.54% year-to-date to 22,145 (21,184).
When the outbreak of COVID-19 disrupted the key number plate change month of March, VW's sales dipped 40.13%, leaving the brand 24.23% down year-to-date with 45,095 (2018: 59,519) registrations. But its continued ability to outpace the market left it with a market share of 9.33% (YTD) in Q1.
Savvas is confident the brand has the products to ensure its retailers remain ahead of the curve. It's a pivotal time for us," he said. "Golf 8 just got launched. Golf, in a normal year, is up to 60,000 registrations a year, which is pretty much a franchise in itself. We'll soon have mild hybrid and plug-in hybrid in that model.
"We'll also be introducing the Touareg R plug-in hybrid and the new Tiguan, with a plug-in hybrid. Arteon and Arteon Shooting Brake are other introductions to the range this year. Then we're about to launch the ID family."
Sell your way to sustainability
Car manufacturers and NSCs have suffered the effects of unsold inventory as a result of the COVID-19 lockdown period, but Savvas said that getting "on the front foot" when trading restrictions were eased would aid the recovery.
VW joined fellow Volkswagen Group brands in offering the initial three-months of its Solutions Personal Contract Purchase (PCP) for free – with the brand covering payments for that period – from June 1.
Highlighting the importance of dealers' efforts to sell stock as Volkswagen looks to meet new EU emissions regulations which dictate fines for any brand with a fleet average over 95g/km CO2, Savvas said: "We were left with some stock during shutdown, but we need to keep building cars and maintaining our flow of product for the rest of the year.
"There's still a way to go and, as a brand, we're still committed to that (30% carbon footprint) reduction by 2025 and becoming carbon-neutral by 2050.
"In terms of the model mix we have right now, I think we're in a similar place to most manufacturers. We needed the right mix and the opportunity to liquidate that stock as soon as possible.
"I'm confident now that we made the right decision in supporting that stock and helping to clear it so retailers can have a really strong September.
"Right now, the most important thing for us and our dealers is liquidity."
Savvas said he was under no illusion of the impact of COVID-19, but said he was confident there would be no failures among its franchisees in 2020. While not as open about the support offered to retailers during the crisis from the likes of Suzuki and Mazda, Savvas told AM that a package "giving retailers guarantees on certain parts of their business" was introduced during the first week of lockdown – delivering "certainty and simplicity" for the network.
Speaking to AM in late-June, Savvas said: "Our dealer network has been absolutely brilliant. What they have done over lockdown, to get their sites ready for June 1, has been phenomenal."
He added: "Selling cars remains the key component of the recovery and getting out of lockdown and ramping up our network's activity became a priority as time went on."
Savvas acknowledged there was a balance to be struck between going all-out to drive sales following the COVID-19 lockdown and re-entering the market cautiously for fear of financial difficulties as increasing number of staff return from furlough.
But he said: "What we have to consider is where customers are likely to go if your business isn't open and accessible to them. They're going to go to the competitor next door.
"The feedback we have received in terms of encouraging and supporting our retailers as they prepare to re-open hasn't been negative and we have seen the fruits of that in our aftersales operations in particular."
Volkswagen dealership owner re-shuffle 'a coincidence'
Feedback from retailers has been mixed in Volkswagen's National Franchised Dealers Association (NFDA) Dealer Attitude and Electric Dealer Attitude Survey results. The brand would argue that the introduction of the ID range will see its score across all questions in the Electric Dealer Attitude Survey rise from an average of 5.6 in May (OEM average: 6.02).
VW's Dealer Attitude Survey scores have struggled to recover from the 2015 dieselgate blow, however, and the brand held a 5.2-out-of-10 overall rating (OEM average: 5.9) in the latest (Winter 2019) results .
Required levels of capital investment (4.8), return on capital (4.1), profit return (4.4) , inducements for self-registrations (4.5) and the bonus and rebate scheme (4.9) were among the brand's weakest areas.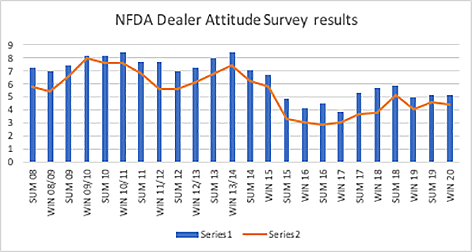 At the AM Awards roundtable in February, John Clark Motor Group chairman, John Clark, flagged-up a reduction in the Volkswagen UK margin for franchised retailers – introduced at the turn of this year – stating: "The average VW dealer made 1.06% last year and they just took 1% off the top end."
The change in margin agreements coincided with the shift in the ownership of more than a dozen Volkswagen franchises across the UK, with Sytner, Inchcape and Jardine disposing of a combined 11 sites in just three months.
Despite assertions by AM sources that profitability and the margin structure changes played a part in the string of transactions Savvas said that there was no suggestion that was the case.
He said: "Some investors simply had a different strategic direction. What I found encouraging was that we had other investors who were clearly keen to invest in other VW dealerships.
"If existing investors want to come into the franchise in a larger scale then that has to be a seen as a vote of confidence in my view. No one alerted me to a particular trigger. Our profitability as a network has been growing through 2017, '18 and '19."
Savvas said Volkswagen would not be strategically cutting the scale of its dealer network like some other manufacturers. He quoted a network scale of 188, with just five sites having closed in the previous seven months.
Within days, however, JCT600 had announced the closure of its dealerships in Rotherham and Newark. JCT600 chief executive, John Tordoff, told AM the two closures had been completed with Volkswagen UK's "full blessing and support".
Changing face of Volkswagen retail
Savvas indicated that a shift of Volkswagen UK's franchised retail offering was already under way, without the need for "wholesale changes".
"How retailers sell and what they sell is quickly going to be very different to what they did in the past," he said.
The Volkswagen 'We' range of connected services are a central component of the changes, with a We Deliver service which sees parcels delivered to your car being added to a raft of services, which include the practical advantages of a connected vehicle booking its own service slot.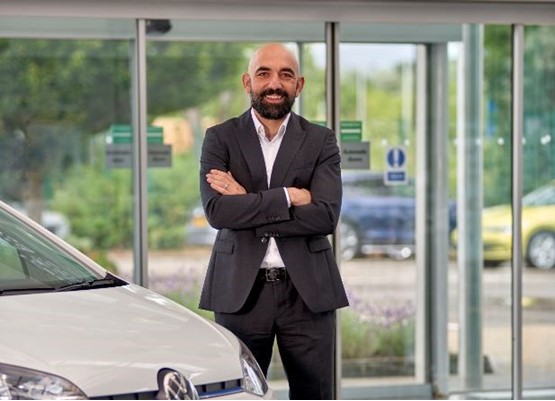 While reports that VW was set to accelerate a move into mobility with the acquisition of Europcar made headlines as AM went to press, Savvas said that dealers were already experimenting with rental.
"Our rent-a-car service is already being trialled in the UK," he said. "In Northampton, right now, you can walk into Parkway Volkswagen and rent a VW. Customers are starting to demand change in the way they lease and buy a car."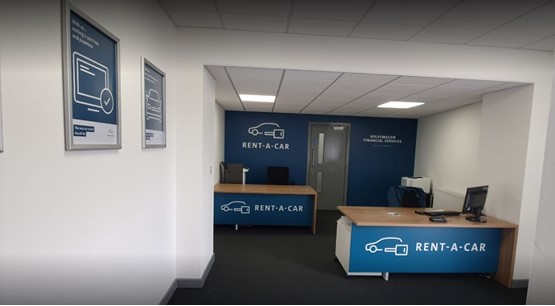 Despite the advances in VW's customer-facing tech, the brand is yet to launch an online new car sales platform, and Savvas said: "It won't happen this year and I don't think it's going to happen that soon."
The delay to VW's move into digital sales is surprising given the evolution of the market during the COVID-19 crisis and Savvas' assertion that the brand's online aftersales booking system has reached record levels this summer.
Late last year Volkswagen introduced its first EV service plans and increased the maximum age of cars eligible for servicing to 20 years (from the previous eight years) to improve penetration of its car parc.
The network's average overhead absorption rate stands at 51%, but Savvas said: "I'm interested in capturing every single customer that is driving a Volkswagen.
"Where we are with the penetration of our car parc isn't good enough and driving that is one of my main objectives for retailers."
In the face of a rapidly changing market, Savvas acknowledges that aftersales remains a key driver of retailer profitability.
And, amid the rapid arrival of EV product and the changing face of the sector, it is clear he is keen to forge a close and resilient relationship with his network.
"For me, I've always seen my approach as not coming in and springing a surprise," he said. "There needs to be a clear path and clear expectations. The best partnerships don't always come from agreeing on everything, but that doesn't mean that you shouldn't desire strong, constructive relationships."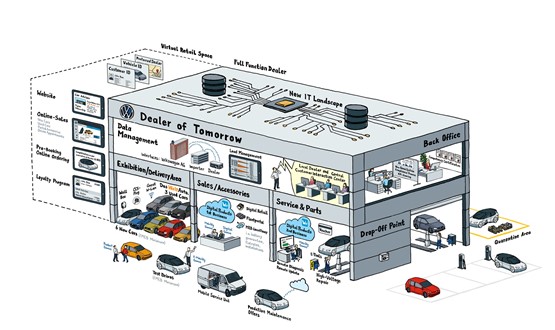 KEY PRODUCTS
POLO The Polo lost its crown as VW's second-biggest seller to the Tiguan in 2019 as sales dipped 17.1% to 37,453 (2018: 45,149) and it has the new Peugeot 208 and Vauxhall Corsa to contend with.
ID.3 The ID.3 is the first in VW's new ID EV model line-up, which will spawn three more models by the end of 2021. The ID.3 can be bought with drivetrains offering a range from 205 to 342 miles.
GOLF The Golf 8 arrived just ahead of the COVID-19 lockdown and will be a key volume driver in the remainder of 2020. Savvas described is as "pretty much a franchise on its own".
TIGUAN A major update of the range will introduce new high-performance Tiguan R and plug-in hybrid derivatives this summer. These should further boost the popularity of VW's second-biggest seller.