Alan Day Group boss Paul Tanner has teamed up with Tina Turner songwriter Billy Lawry to release two new singles and is preparing for a gig at a venue previously played by The Kings of Leon and Paul Weller.
Group chief executive Tanner, who spoke of his passion for music and rehearsals in his Volkswagen dealership in a dealer profile interview with AM magazine back in 2017, told the Camden New Journal about the release of the songs co-written by Lawry – the brother of the pop star Lulu.
Too Late For Love and Ordinary Boy, the former having generated more than 100,000 hits on YouTube in three weeks, will be played at a gig at 229.London in Great Portland Street, on October 2.
Tanner - stage name Paul James - is a former Watford FC youth footballer and international hurdler.
The multi-talented car retail group boss told the New Journal that he only started playing music and singing after suffering a collapsed lung six years ago.
He described how he experienced "a kind of epiphany" after emergency surgery.
"I'd just like to tell people it's never too late to do something you love," he said.
View Tanner's Ordinary Boy single on Youtube here:
In his 2017 interview with AM, Tanner described how he rubbed shoulders with Coldplay drummer Will Champion in an early brush with musical superstardom.
The group boss celebrated 30 years with the Alan Day Group back in 2017, having started his career at Alan Day VW as a parts driver aged just 19.
He has worked in every part of the group's business, having been placed on a two-year apprenticeship in the service department before being promoted to the role of supervisor in the parts department.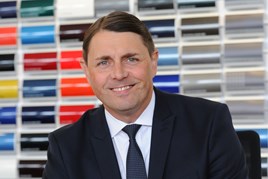 His various roles have included service manager, aftersales manager and general manager.
Tanner's rise through the business reached new heights when he replaced Alan Day following his retirement in 2006, a move which saw him become one of the youngest managing directors in the country.
Tanner bought the Volkswagen side of the Alan Day business for £2.39m, including £776,270 goodwill, after the group chose to focus on Honda franchises in Enfield, Hendon, Portsmouth, Southampton and Winchester.