New Porsche Cars Great Britain chief executive Krishan Bodhani will be targeting growth when he takes up his new role at the growing sports car brand next week.
Former boss Sarah Simpson departed the brand at the end of last summer and took to LinkedIn this week to take a career break and "spend time with my family" after spending just over a year in the post following her move from Bentley Motors.
And Porsche will continue its drive for growth in the UK under new leadership when he officially takes up the post from a position as vice president and director for sales and marketing at Mercedes-Benz General Distributor (MBGD) Europe, Middle East and Africa on February 1.
A spokesman for Porsche told AM that Bodhani would continue Porsche's push for growth in the UK – including expansion of its car retail network – after registrations grew by a third, from 13,702 to 18,267 in 2022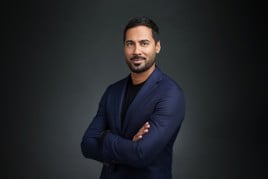 Commenting on his appointment, Detlev von Platen, the board member for sales and marketing at Porsche AG, said: "In Krishan Bodhani we have gained a proven sales and marketing expert for our UK subsidiary.
"He knows all about the specifics of the British market. I am convinced that he will further strengthen our brand's presence in the market and provide the right impetus for Porsche."
Bodhani previously worked for Mercedes-Benz in the UK for several years, including a spell as director of used car sales and remarketing and as head of smart UK, and also Audi and Volkswagen in the UK in various sales and marketing roles.
Porsche is poised to drive the electrification of its range after raising funds after following Geely's performance EV brand Polestar into an IPO in 2022.
Commenting on her time with the Volkswagen Group this week, Simpson said: "After 23 wonderful years with the Volkswagen Group with VW Bentley and latterly Porsche, my time has come to say goodbye and more importantly, a huge thankyou to all my colleagues who have supported my journey there.
"For personal reasons I made the tough decision to take time out and spend time with my family who need me more right now."
She added: "The experiences I have had over the years will stay with me for the rest of my life and I am lucky enough to have made some lifelong friends along the way."