The listing of the fast-growing Polestar electric vehicle (EV) brand on the New York Stock Exchange has been described as "an incredibly proud moment" by the OEM's chief executive Thomas Ingenlath.
Polestar is expected to raise in the region of £700 million to fund further global growth with its listing today (June 24).
And its largest shareholder, Volvo Cars, has welcomed the news that the Nasdaq's famous bell will toll on June 28 to signal the start of shares trading next week following the completion of its business combination with Gores Guggenheim, a special purpose acquisition company.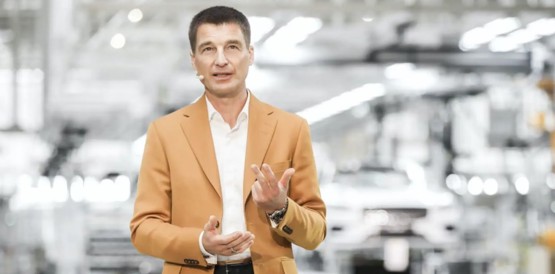 Polestar chief executive Thomas Ingenlath said: "Listing on the Nasdaq is an incredibly proud moment for Polestar. We set out to create an outstanding new EV brand with the mission to accelerate the shift towards sustainable mobility.
"With 55,000 cars on the road today and global recognition as made evident by over 100 awards, we have built a strong foundation for future growth.
"We are now expanding our product range with three new premium electric models, including two SUVs, by 2024.
"The first, Polestar 3, a full-size electric SUV, will launch in October 2022 and sets a new standard in this high margin, premium segment."
AM reported last week that Polestar is now live in 25 markets and has seen year-to-date sales grow 290% to over 32,000 units.
Almost 130 retail locations are now open globally, with a further 30 – including a Polestar Space in Glasgow – among those expected to open in 2022.
The most recent Polestar Space retail centre to open in the UK was Paul Rigby Group's operation in Birmingham, which opened earlier this year.
Polestar's two new SUVs, the Polestar 3 and Polestar 4, are expected to command a production volume of 160,000 by 2025 as the brand targets a tenfold growth in sales, from around 29,000 cars in 2021 to 290,000.
Proceeds from Polestar's merger and subsequent public listing will be used to help fund continued investments in the expansion of Polestar's products, operations and markets.
Commenting on the brand's merger and listing, Alec Gores, the chairman and chief executive of The Gores Group, said: "It's been a pleasure partnering with Thomas and the Polestar team – alongside Volvo Cars and Geely Holding – as they continue to disrupt the EV space and reach their sustainability goals and we look forward to what's ahead.
"Polestar has proven itself to be a true leader and innovator with premier vehicles, industry-leading sustainability solutions, impressive sales and orders, and stunning designs for future models. This is a tremendous moment – especially in this market – and we are excited to continue to support Polestar through this next phase of growth."
Jim Rowan, chief executive of Volvo Cars, said: "We welcome this important milestone for the journey of Polestar. As our affiliate brand and important business partner Polestar plays a key role in our strategic direction to become fully electric by 2030 and shape the future of mobility."
Volvo Cars said that it would continue as a "responsible shareholder and business partner" to Polestar, continuing in a close collaboration which includes sharing of technologies and development costs.
Upon completion of the merger and listing of Polestar, Volvo Cars will hold 48.3% of the combined company.