CitNOW will reveal insight into the accelerated pace of digital change in the UK car retail sector since the start of the COVID-19 at AM Live Virtual 2021 – offering advice on the advances yet to come.
Chief executive Alistair Horsburgh is set to reveal the findings of the automotive video specialist's Accelerating the Digital Customer Experience research study as part of a packed agenda of seminars and workshops at the online event running across January 20 and 21.
Horsburgh will host CitNOW's AM Live Virtual 2021 presentation at 10.45am on January 21.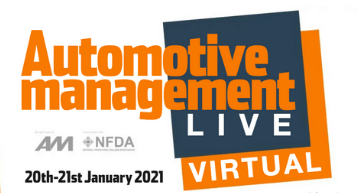 Attendees to the free two-day event will also be able to visit CitNOW's virtual booth at Hall 1, Stand 3, to download its latest research or live chat with team members.
Commenting on the content of his presentation, Horsburgh said: "At AM Live Virtual, we will exclusively launch our latest combined consumer and industry research study - Accelerating the Digital Customer Experience.
"Through comprehensive surveys conducted among motorists and retailers across the UK we explore the growing influence of digital interaction on consumer sentiment and buying behaviours, and what dealers can do to meet evolving and diverging consumer needs.
"We'll also be sharing fresh insights during our presentation, 'Driving engaging customer experiences', which will explore how video can be used to drive engagement and create strong emotional connections with consumers."
The importance of digital trading has been brought into sharp focus once again this week with the renewal of COVID-19 lockdown measures across the UK, restricting retailers to aftersales and click and collect sales operations.
A digital revolution which saw seven years' worth of change in seven months – according to a report by McKinsey – has equipped the sector to leverage more lockdown sales than was possible in H1 2020, but there remain challenges to overcome.
Horsburgh said: "The shift towards increased digitalisation of the customer journey in motor retail has gained significant momentum over recent months as a direct consequence of the COVID-19 pandemic.
"OEMs, car retail groups and dealers across the UK have reacted quickly to the changing landscape and on the whole positive inroads to digitising the car buying process has taken place.
"However, there are still challenges to overcome and many opportunities to successfully digitise the showroom experience and keep up with the rate of change we are experiencing."
Effective marketing and CRM, profitable car sales and workshop efficiency will be among the critical subjects addressed at AM Live Virtual.
As well as CitNOW's input, the event will share learnings and case studies from more than a dozen UK motor retail groups and featrure 20 seminar sessions offering visitors insight, advice and guidance to improve their strategic planning and their day-to-day operations.
The automotive retail sector's supplier partners will also be showcasing their latest products and services on enhanced interactive stands with video, live chat and demonstrations of new technology.
Attendance to AM Live Virtual is exclusive to dealer and vehicle manufacturer personnel.
To get into this insightful automotive event for free you must register in advance at www.automotivemanagementlive.co.uk
Our virtual event is accessible from desktop, tablet and even mobile devices on browsers such as Google Chrome, Safari, Firefox and Microsoft Edge.