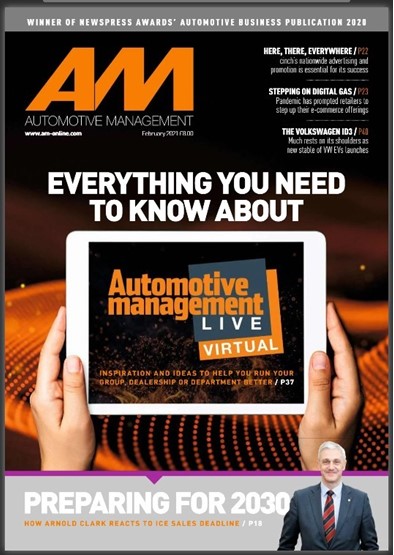 Arnold Clark's innovative approach to promoting electric cars, small dealer groups' success with online car sales and Cinch's strategy for growth are all explored in the new issue of AM magazine, available to read here in digital form.
Plus there's a guide to the imminent Automotive Management Live Virtual online show, on January 20-21, in which more than 30 expert presenters and dealer group leaders such as Peter Vardy and Daksh Gupta will share their advice and insights that can help the UK motor retail industry make a success of 2021 and beyond.
Our exclusive interview in this issue with Eddie Hawthorne, chief executive of Arnold Clark, reveals the thought he's putting into his strategy to keep customers coming in as the new car market shifts purely to plug-in cars.
And in our spotlight on e-commerce, RRG and Vindis Group are among the retail operators discussing how smaller AM100 groups can make a success in this growing area, while Pendragon and John Clark Motor Group illustrate how the big ones tackle it.
Take a look at the February 2021 Issue of AM here.
Editor's Letter
What a start to 2021. Week one and straight into lockdown. Thanks COVID for bringing us back down after the EU trade deal was thankfully secured.
The upside is that this year can only get better. As more people get vaccinated we will be able to slowly kiss goodbye the threat of such tough restrictions. A more stable working life will return. There'll be postponed sales opportunities to recover. There might even be business meetings with handshakes and hugs again.
There's already a ray of sunshine looming in the form of our online, two-day, festival of motor retail best practice for dealers and OEMs – Automotive Management Live Virtual.
With 18 speaker sessions and case studies from more than a dozen dealer groups on January 20-21, I can guarantee you'll log out afterwards end with inspiration and ideas to help you run your group, dealership or department better. You can network virtually with peers too. Find out more here or go to www.automotivemanagementlive.co.uk for the exact timings and agenda.
Whether you're in work or on furlough, the time you can spend at Automotive Management Live Virtual will be wisely spent. All presentations are being recorded and will be on-demand for 28 days afterwards, providing you've registered. See you there!