"Our industry has made incredible strides with years' worth of digital transformation happening in a very condensed period."
It's one positive motor retail can take away from pandemic lockdowns and business disruption, according to Pontus Riska, RAPID RTC VP sales and support (UK), who will be joined by Facebook's head of automotive Anita Fox in a presentation at Automotive Management Live Virtual, which starts on Wednesday, January 20.
Together they'll draw on a wealth of data from both the social media platform and Rapid RTC's experience of delivering digital communications and customer engagement on behalf of its 4,000 retail and manufacturing clients from around the globe.
Riska (pictured) said: "The sales process in our industry is very complex and being able to mimic an Amazon style sales process is very difficult, in particular considering that customers will ultimately lead this evolution through their desired journey such as their continued preference to test drive before completing the purchase."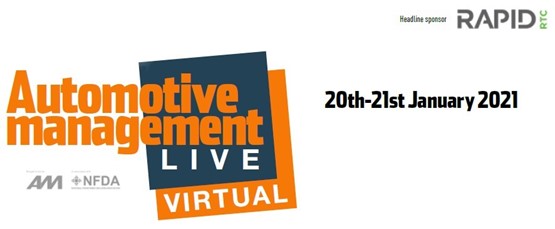 Riska believes dealers' resilience and entrepreneurialism has forged new ways of working, including adding more digital communications and messaging platforms to connect with customers, continuing the growth of video communications, and introducing click and collect and home delivery.
RAPID RTC is AM Live's headline sponsor for the third year running, and by joining forces with Facebook, its session 'Embracing The Paradigm Shift' delves deeply into consumer behaviour since 2.5bn people use one or more of the Facebook family of apps every day to stay connected.
One area Facebook's data will shine a light is the paradigm shift occurring now, i.e. how the move to a more digitised way of working will be embedded in dealer processes as normality returns.
For example, according to Facebook, one in two car buyers were comfortable doing any one of the purchase steps without a visit or help, but the other half still wanted human contact within their purchase process revealing that a one size does not fit all.
Fox, whose automotive experience also includes head of global marketing for Land Rover and head of marketing communications for Volvo Europe, and Riska will discuss how such insights can help dealers adapt their sales process and digital aspects according to individual customer demands.
To view the full agenda for this week's AM Live Virtual, and to register, click here.
On day two of the event (January 21), the session Steer Your Dealership To Online Success And Turn Feedback Into Action' by Reputation.com will further examine the contribution of a properly managed 'digital front door' to a dealership's success.
Phil Capper, Reputation.com's enterprise sales manager, said: "It used to be enough to simply have a good, informative, and responsive website. But now, Google is your front door. GMB (Google My Business) listings receive 10x more web traffic than your website. 2020 also saw an interesting trend which I wanted to share with you.
"We can now say, for the first time ever: The majority of searches on Google go no further than Google. The searcher finds what they're looking for directly on GMB, and does not visit a website."

Capper said when you're able to bring all that customer experience data into one platform, you have an incredible level of granularity of operational insights. Operational Insights gives your brand the means to refine the rocket fuel of customer experience feedback into actions that build an online reputation.
"Over the last 12-months, listings and reviews have increased by 3% in terms of importance, with a larger increase between 2018-19, and we expect this to continue.
"You can also see the importance in general with GMB alone plays, being the most influential source of information for Google."