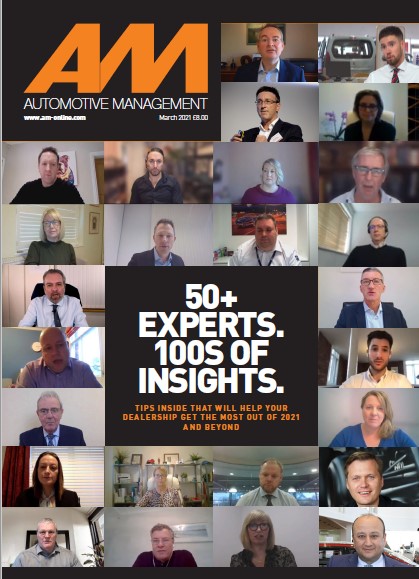 Insights into Marshall's and Peter Vardy's plans for 2021 trading, plus hundreds of tips for improving digital marketing, lowering the cost per sale, and squeezing more efficiencies from every dealership are all in the latest AM Magazine's March Issue, available here.
Free to view, this AM Magazine contains highlights of all the fantastic presentations at the recent Automotive Management Live Virtual event.
PLUS all those presentations and audience Q&A sessions were recorded at the live event, so this issue tells you how to access those recordings on the event platform before the February 19 cut-off date.
Some of the tips inside:
Which consumer demographic you should be focusing on to win over as the next EV adopters
What Google My Business should be doing for your dealership's search results
How you should be winning back older car servicing from independent garages deemed as cheap
Why you should be negotiating hard on property leases and considering ready-made 'service factories'
How you can reduce inefficiencies by making IT systems work with each other
Which specific services will make female consumers more trusting and likely to buy from you
How you should be sharing your vision to give staff confidence during such turmoil
Which consumers put off purchasing in 2020 but are now preparing to change their car
Why consumers may stay away if you're not marketing your contactless secure services
Editor's Letter
Welcome to this digital issue of AM Magazine.
You'll notice it's a little different this month. We're bringing you the highlights from every presentation at our recent Automotive Management Live Virtual event, which proved to be a festival of best practice and industry insight.
And because all those presentations were recorded at the live event, once reading our highlights has whetted your appetite you can still watch the complete presentations on our event platform until Friday, February 19.
You'll hear more about the impact of Brexit from Deloitte's experts, learn lessons from the retail front line from the likes of Daksh Gupta, Peter Vardy and Robert Forrester, gain numerous digital marketing tips and understand where you can squeeze extra magin from in 2021 and beyond.
The live event was open to dealers and OEMs only, but now we've opened the platform up for any industry personnel. You'll need to register, mind.