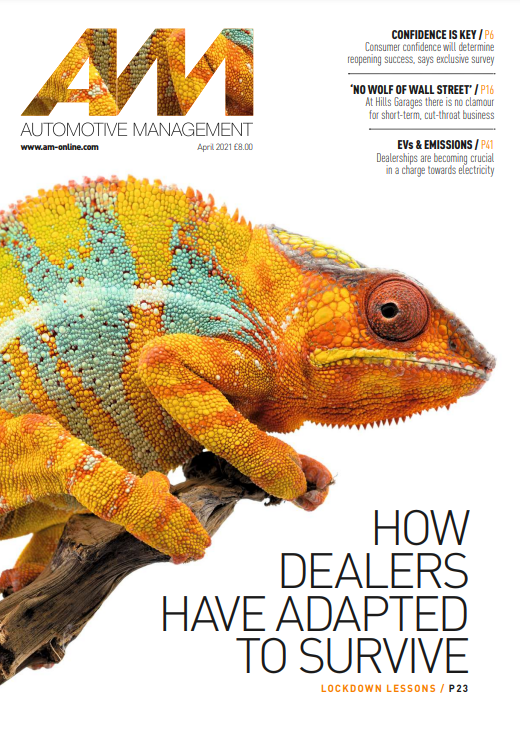 The new issue of AM is out now with insights into dealers' learnings from lockdown, and how they can prepare for an electrified vehicle ramp up as we near the 2030 UK Government target.
Inside are the results of exclusive AM and JudgeService YourPoll research of motor retail senior leaders about where their priorities lie for 2021 and what obstacles they will seek to overcome.
Plus there are interviews with motor industry charity Ben and Woodford-based local hero dealer group Hills Garages, and a report on the crucial electric and hybrid cars coming into the market in 2021.
Editor's letter
I would imagine you were as pleased as me to see Boris Johnson set out a roadmap out of lockdown. Less than a month from now – providing infection rates are lowering – vehicle showrooms will be allowed to reopen, plus we'll be able to have a cuppa outside with a pal or relation after work.
The last 12 months have made me appreciate technology more than ever. Since AM shifted to working at home last March, our video meetings, webinars and phone calls have helped Tom and I keep abreast of how you're overcoming the challenges – adapting to survive, as our cover illustrates. Whereas in normal times we'd be on site, being nosey and asking questions in someone's dealership or an OEM's office, every single month.
I've missed those visits. I'm sick of the sight of Peterborough, to be honest.
So, I'll finish with two toasts: Here's to wifi, our saviour in lockdowns. And here's to face to face meetings (no matter whether dealer-customer or AM-dealer) in the spring sunshine.
Read other recent issues of AM magazine in digital form here.