Automotive retailers should exploit all areas of EV driving now to create new revenue streams as vehicle ownership expands, Alan McCleave, director of UK and Ireland at Wallbox, which provides electric charging and energy management systems, will tell visitors to AM Live 2022.
Taking to the stage in one of the sessions on AM Live's Inspiration Theatre, McCleave will explain how retailers can create additional profit opportunities beyond simply selling and servicing EVs.
Once again, Automotive Management Live, now in its seventh year, will take place at Birmingham's National Exhibition Centre on November 10.
McCleave said: "I don't think many dealers are aware of the multiple income streams which EV driving generates.
"Since EV servicing is not as profitable as ICE vehicles for aftersales departments, dealers need to monetise EV ownership further, particularly arranging and supplying home charging installations on behalf of customers, currently, mainly the preserve of the OEMs.
"Different business models are available when providing home charging installations from earning a commission on referrals to managing the entire process, but the more hands on a dealer is willing to be, generally, the bigger the margin opportunity."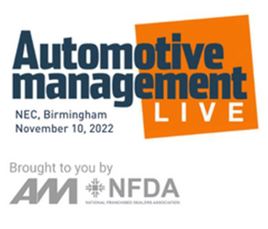 Dealers can weigh up the investment versus the return to make decisions on how 'hands on' they want to be in the home charging installation arena. The referral model allows retailers to invest less but still gain a margin whilst retaining the option to switch further down the line as EV ownership increases.
He added: "By taking the lead on the customer's entire EV journey, dealers are in full control of the experience resulting in increased customer satisfaction whilst reaping the reward of a greater margin."
OEM standards invariably demand a dealer installs chargers on the forecourt to ensure EVs are fully charged after a service but these are usually underutilised. McCleave will explain how dealers can create a regular income as part of a subscription model for public charging especially for groups with multiple sites.
By making an investment in a split charger, whereby two vehicles can be charged at the same time from one charger, dealers would be futureproofing their business as EV numbers multiply as well as further boosting income potential and managing the usually limited space of many sites.
McCleave said: "Dealers can get a better return as they meet OEM standards or by setting them even higher, they will be futureproofing their business since split charging offers twice the income on the same piece of real estate as a single charger. By creating their own charging network, groups not only meet the needs of their travelling private and fleet customers but attract drivers of other makes and models onto their sites.
"Dealers need to be making these chargers pay and there are plenty of opportunities to create additional revenue."
AM Live remains free for both franchised and independent retailers and manufacturer delegates by booking at https://www.automotivemanagementlive.co.uk/