A bank holiday-induced dip in consumer demand has been blamed for a 4.6% decline in the average price of a used car sold at auction during April in BCA's monthly Pulse Report.
The average value of a used car sold by BCA declined to £9,248 as the average age and mileage of cars entering the auction halls both increased.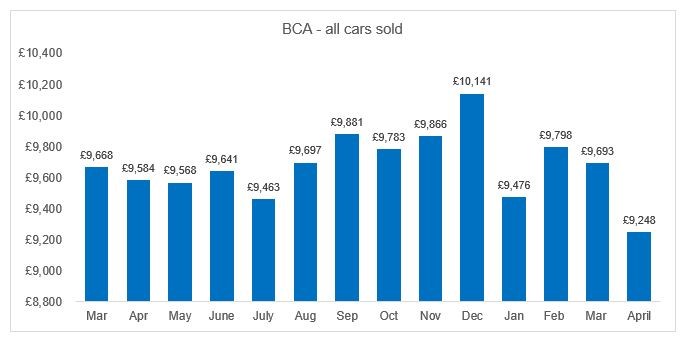 Despite this, however, the remarketing specialist reported a rise in year-on-year values for fleet and lease, dealer part-exchange and nearly-new vehicles.
Stuart Pearson, BCA's chief operating officers for UK Remarketing, said: "As predicted last month, the seasonal run of public holidays over the Easter period and into May has put pressure on the market at a time when supply is typically plentiful.
"Buyers have been particularly cautious as we've seen values shifting on an almost weekly basis since the start of April.
"Based on the sustained increase in values over many months, some realignment is therefore not unexpected and isn't unusual for this time of year."

The BCA Pulse reported showed that fleet and lease vehicles increased 2.4% in value during April, rising to £11,406.
The retained value against original MRP (Manufacturers Retail Price) was down by 1ppt at 43.1% when compared to 2018.
Average age at time of sale has risen to 39.8 months, while the average mileage of 38,916 was down compared to a year ago.
Dealer part-exchange values continued to rise at BCA, with April 2019 showing a £150 increase year-on-year, equivalent to a 3% uplift.
BCA Said in its report that an "improved quality of product on offer in this sector" was helping to keep values firm, with average age and mileage decreasing compared to the same month in 2018.
Demand continues for nearly-new vehicles at BCA into April, according to BCA Pulse, with values at £22,557, up by £3,387 (17.6%) compared to a year ago.
The report said: "Model mix has a significant effect in this low volume sector, with brand specific winners and losers."