Auto Trader data recorded a 14% rise in car buyers searching for electric vehicles (EVs) during May, but the 2012 Ford Focus Estate emerged as the online marketing platform's fastest-selling car.
Consumers' growing interest in alternative fuel vehicles (AFVs) was not enough to deny the petrol powered 2012 Focus Estate's success for retailers last month as it took just 18 days to turn on average despite the growing interest in different fuel types.
The 2017 Skoda Superb estate (diesel, manual) came in a close second with a 21-day average, Auto Trader said.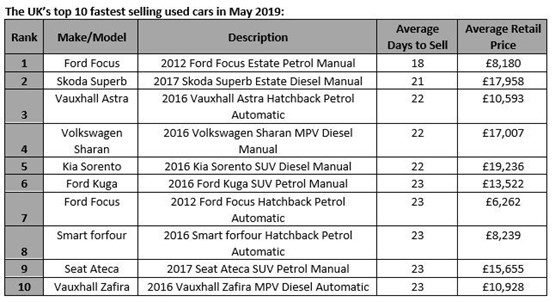 Conventional internal combustion engine (ICE) vehicles continue to be the dominant player when it comes to the fastest selling vehicles and indeed are the most searched for specified fuel type on the Auto Trader platform, representing 92% of all fuel searches.
However, whilst searches for petrol and diesel grew at a conservative monthly rate of just 1% and 2% respectively, searches for pure electric vehicles jumped 14% from April.
Commenting on the success of the Ford and Skoda estate cars on retail forecourts during May, Karolina Edwards-Smajda, Auto Trader's director of commercial products, said: "It's easy to overlook estates in the wake of the surging popularity of SUVs over the last few years, but it shouldn't come as any surprise to see them take the top spot; they've come a long way from the uninspiring models that prioritised functionality over style.
"Many of today's estates offer elegant styling, excellent efficiency, and plenty of practicality that can often outperform an equivalent SUV in the real-world.
"The dominance of estates this month highlights just how fluid the market is. The ability to track emerging trends through data management can ensure your forecourt reflects consumer tastes and demands, helping to increase turn of sale and ultimately maximise profits."
Nationwide, Ford's success with the Focus Estate during May was mirrored across a number of the regions and countries tracked, with the Blue Oval taking the top spot in East England (2016 Ford Kuga diesel manual – 28 days), East Midlands (2012 Ford Fiesta petrol manual – 23 days), North East (2016 Ford Kuga diesel manual – 23 days), Northern Ireland (2016 Ford Kuga diesel manual – 26 days), South East (2018 Ford EcoSport diesel manual – 17 days), Wales (2016 Ford Kuga diesel manual – 31 days) and Yorkshire (2013 Ford Focus petrol manual – 25 days).