Car retailers saw their used car stock turn speed up as an influx of pre-registered cars onto their forecourts led to the swift sale of nearly new vehicles, according to Indicata.
The fastest-selling used cars sold four days quicker than the 2019 average so far last month according to the latest data published by Indicata, part of Autorola UK.
Average used car stocking days for the fastest-selling used car fell from 47 days in July to 43 days in August with the petrol Ford EcoSport and Hyundai Tucson jointly topping the charts, it said.
But Indicata found that younger used cars had been forced to compete with an increased number of pre-registered new cars coming into the market.
"The 18-month to four-year old used cars are selling strongly, but the sub 12-18-month old used cars are being forced to compete with the pre-registered new cars coming into the market," explained Neil Gilligan, Indicata UK's business development manager.
"This may reduce demand, affect prices and increase stocking days for younger used cars during September and October if the aggressive pre-reg activity continues."
Indicata's fastest-selling cars so far in 2019: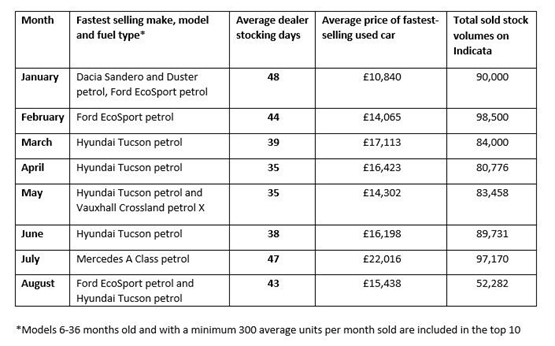 Seat, Mercedes and Volkswagen all performed well on used car forecourts during August.
The petrol Seat Ibiza ended the month as the second fastest-selling used car at 45 days, according to the software provider which aims to help deliver insight to help retailers manage their used vehicle inventories.
Smaller petrol used SUVs and larger diesel SUVs are also selling strongly.
Indicata said that the traditional summer market slowdown and the forthcoming September plate change saw a 2019 low of 52,282 sold used cars on the Indicata platform.