The value of a used electric vehicle (EV) rose by an average of 30.4% in August as year-on-year like for like values in the wider market declined by 1.3%, according to Auto Trader.
The online car marketing platform said that the trend – seen among car retailers online classified adverts – represented the largest monthly rise in the value of zero emission vehicles it has ever recorded.
Auto Trader reported that the average price of a used car advertised by retailers remained stable in August at an average of £13,001.
After removing the impact of mix (changes in the types of vehicle entering or leaving the market), like-for-like advertised prices in August contracted 1.3% year-on-year.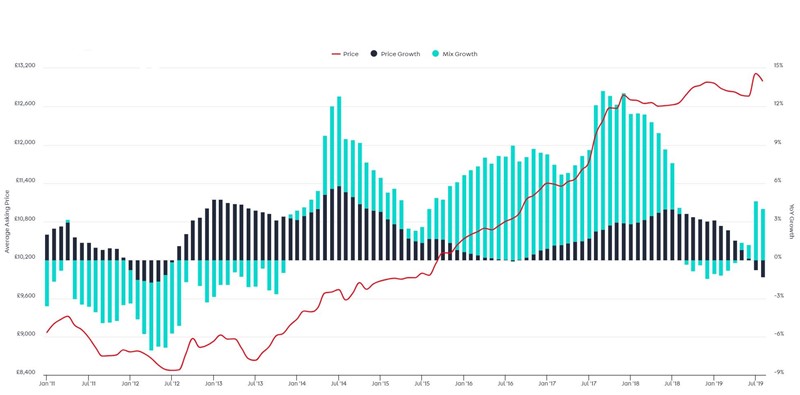 Auto Trader said in a statement: "Used car advertised prices have been impacted by the market corrections to trade valuations which were made through the summer.
"These marginal decreases in residual values follows the automotive boom of new car registrations in 2015 and 2016 which resulted in a large volume of stock for cars in the three to five-year age range. Cars aged 10 to 15 years still show like-for-like price growth (0.8%)."
Like-for-like prices for diesel and petrol vehicles decreased by 1.7% and 1.4% respectively while alternatively fuelled vehicles (AFVs) continued their upward trend, recording 5.7% year-on-year growth in August.
Petrol vehicles now have an average advertised price of £11,556, diesels £14,202 and AFVs £21,782.
Despite the average decline in sticker prices, Auto Trader said that the demand for second-hand cars remains solid as reflected in the number of searches on the Auto Trader marketplace.
In August, searches for used and 'nearly used' vehicles saw a 4% year-on-year increase.
Karolina Edwards-Smadja, director of commercial products at Auto Trader, said: "Used car prices will naturally fluctuate, but over the last few months there's been a variety of unprecedented factors affecting average prices, not least the realignment of market values over the summer, which resulted in some cars having up to £1,000 knocked off their sticker price.
"Supply and demand is less of an issue, but we shouldn't entirely dismiss the impact the spike in new car registrations three to four years ago has had.
"Add to the mix the ongoing economic uncertainty and there's clearly been an unusual amount of pressure placed on second-hand car values.
"It will be interesting to see whether these factors have any further influence during the closing quarter of 2019."