The Mercedes-Benz E-Class was the fastest-selling used car in September with the highest average price recorded so far in 2019, according to Indicata.
The used car stock management and online marketing platform, which is part of Autrola, found that diesel versions of the premium German saloon car was priced at an average £24,631 and sold in an average of 44 days – the same as Hyundai's Tucson SUV.
The Korean SUV – retailers' fastest-selling vehicle for six of the past seven months, according to Indicata's data – was advertised for an average £16,180.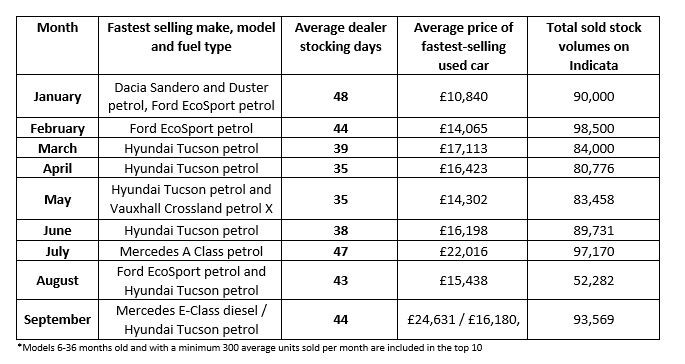 Neil Gilligan, Indicata UK's business development manager, said: "Dealers reported that September was a very busy used car month, alongside a much quieter new car market.
"Mercedes had an amazing month with many of its models in high demand. Diesel saloons and SUVs like the E-Class and the GLC performed well, reinforcing our theory that diesel engines are still the preferred option at the larger end of the market."
The 44-day average stock turn achieved by the E-Class and Tucson last month was one day less than Indicata's fastest-selling car for August – the Mercedes-Benz A-Class.
The volume of used cars sold recorded on the Indicata platform during September rose to 93,569, the third highest monthly figure in 2019.
Mercedes was the best performing used car brand in September with four cars - the E-Class diesel, A-Class petrol, GLA-Class and GLC-Class diesel all in the top 10.
As with recent months smaller SUVs like the petrol Vauxhall Mokka and Crossland, Ford EcoSport, Peugeot 3008 and Renault Captur all made the top 10.