UK car buyers have Europe's strongest appetite for used diesel cars according to stock turn data published by Indicata this week.
The used car inventory and pricing software specialist found that retailers in the UK sold their stock of diesel vehicles faster than any other market in the continent's top-five largest markets (plus Belgium) during 2019.
Analysis of 12.78m petrol and diesel used cars was used to complete the study, which highlighted Spain as the region's most volatile market.
UK data showed an annual average days to sell (ADTS) low for diesels of just 48 days in both April and October, with used demand consistently strong despite diesel new car sales falling in the market by a record 21.8% during 2019 according to Society of Motor Manufacturers and Traders (SMMT) data.
The findings echo those of Auto Trader, which reported its monthly Retail Price Index report that diesel remained "consistently the fastest selling fuel type for used cars" in January last year, with 67% (eight-in-12) of the monthly top fastest selling used cars powered by the fuel.
Andy Shields, Indicata's global business director, said: "The speed at which used diesels have fallen out of favour for legislative and environmental reasons continues to challenge European dealers.
"It will take a few more years for the demand and supply of used cars to match the needs of consumers in individual countries. In the meantime, Indicata's powerful pricing data insights can help dealers manage these challenges."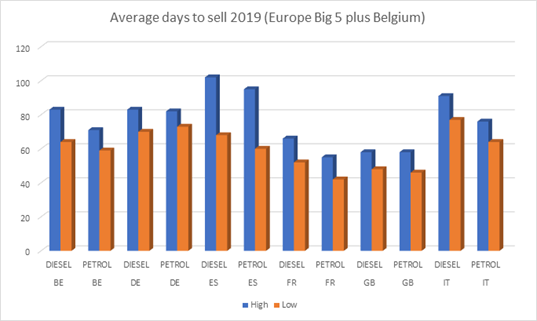 The Spanish used vehicle market witnessed the most severe fluctuations in ADTS for both petrol and diesel used cars during 2019 as used diesels continued to fall out of favour across Europe, Indicata's data revealed.
In Spain, January saw the highest ADTS for petrol and diesel at 95 and 102 days, respectively. In June the petrol ADTS reduced to a 12-month low of just 60 days, while November was the best month for diesels at 68 days.
That accounts for a major swing of 35 and 34 days respectively which shows the volatility of the 2019 used market for Spanish dealers.
Germany and Italy reinforced the tough time they are experiencing with used diesels.
ADTS figures stayed above 70 and 77 days in Germany and Italy respectively during 2019, which is why some dealers - with the help of Indicata market pricing data - are exporting used cars.
Late last year AM published insight into the Indicata business in a "10 minutes with..." feature with national business development manager, Neil Gilligan. You can read the feature by clicking here.