Used car values have continued to fluctuate online despite calls from Cap HPI and Auto Trader to maintain a stable market through the postponement of changes amid the COVID-19 coronavirus lockdown.
In his Weekly Retail Price Watch, Cazana director of Insight Rupert Pontin, said that his analysis of a market where retailers continue to advertise vehicles and take reservations ready for a return to business after their retail sites closures has mean that pricing movements have persisted.
Stating that the Weekly Retail Price Watch would continue to focus on "pricing shifts based on all cars currently showing as available for sale in the market", Pontin delivered his findings from the period between March 25 and April 1: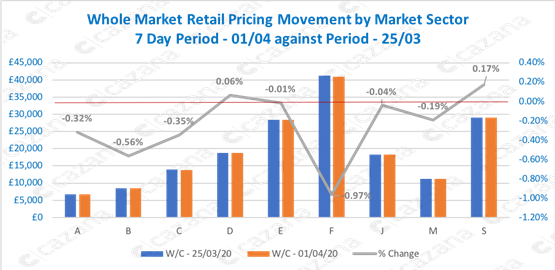 This chart reflects the fact that there was a 0.24% decrease in retail pricing for petrol-powered cars across all market sectors.
Given that the average price across these sectors is £19,529 this means that the price shift was £47 per car.
Of specific note was the decrease of almost 1% for the F sector or luxury car market where the average price was £40,918 meaning a price shift of £396 per car.
Looking by diesel propulsion and the retail pricing movements have been negligible with an average drop of 0.01% across the sector.
The largest move has been for retail pricing in the C sector or small family cars at 0.29% or £35.
This reinforces the strength of diesel car demand in the market and is a relevant point given that diesel-powered cars are not popular in the new car market right now.
It is also worth noting that C Sector cars account for 7.9% of the total used car market as seen in the next chart: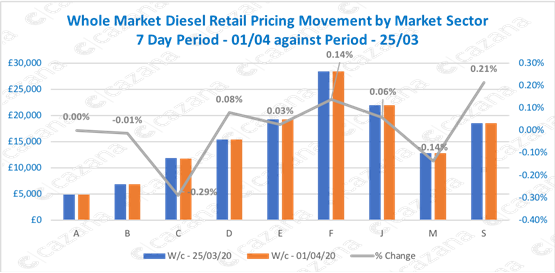 The petrol-hybrid propulsion type remains reasonably new in the market when compared against petrol and diesel and the volume of data is therefore lower, although market penetration is and will continue to increase.
The average movement for this fuel type week on week was a decline of 0.85% as shown in the chart below: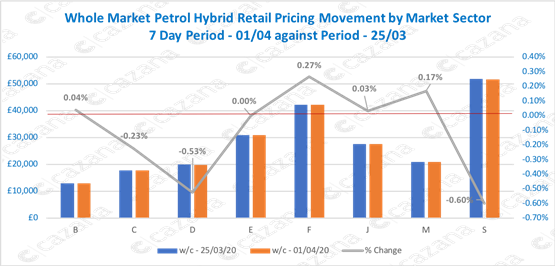 This fuel type is not represented in every market sector and there are no A sector hybrid mini cars in the market.
The largest move in for this fuel type came in the S sector and at 0.6% downwards represented a reduction of £309 per car with the D sector close behind with a 0.53% reduction or £105 per car.
The chart below depicts the retail pricing performance of BEVs in the market in the last period and it is clear that there is great stability in pricing: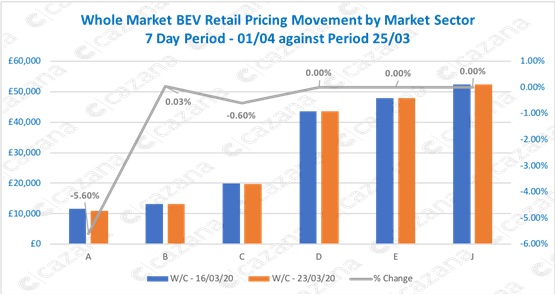 Where last week's BEV data that reported on newly listed adverts showed some significant volatility it is clear that the market as a whole has a great deal of consistency.
At an average price of £29,035 across the market, movements here can reflect a large pound note difference.
The A sector or Supermini shift of 5.6% downwards means a change of £615 although this will be across a small number of cars.
This BEV position is not a surprise given the low volumes of total vehicles in the market and the volatility seen beforehand was symptomatic of small quantities of very different individual cars coming new to the market.
This will be an important sector to watch post lockdown as there are conflicting anecdotal reports of a wide variance in retail consumer interest.
In conclusion, retail pricing is still moving, and it is vital to remember that whilst actual sales are largely paused, there is no need to be turning the position into a "race to the bottom".
Retail consumers still search for cars and the indications from the reopening Chinese market are that sales will pick up swiftly post lockdown.
Therefore, watching competitor shifts in retail price are imperative over the coming weeks to ensure a quick return to trading profitably.