Car dealers have resisted the temptation to "slash prices" during COVID-19 lockdown according to Auto Trader data which showed an 1.9% year-on-year increase in May.
The online automotive marketing provider said that the average value of a used car advertised on its platform reached £13,931 last month after a 0.1% pricing increase in April was followed by the near-2% rise as car retailers begun to increase their contactless trading operations.
"Rather than slashing prices, Auto Trader's data scientists have observed the number of car retailers making price changes, the number of vehicles being repriced, and the value of price adjustments made over the last 10 weeks has been significantly lower than normal trading conditions", said the findings of Auto Trader's monthly Retail Price Index.
Richard Walker, Auto Trader's director of data and insights, said: "It's a huge relief to see that despite the huge pressure over the last 10 weeks, retailers have remained firm and resisted the urge to lower prices. And with consumer demand surging this week, it's clear it was absolutely the right decision."
The rise in valuations seen on Auto Trader reflects that seen by Cazana head of insight, Rupert Pontin, who identified an "upward pricing trend" in a 'guest opinion' post for AM this week.
Pontin said: "When pricing moves upwards like this it can be an indication that there is good consumer demand and perhaps a shortage of stock."
In its monthly analysis of online marketing trends, Auto Trader said that a daily average of 1,135 retailers made price changes to their stock in May – 54% down year-on-year.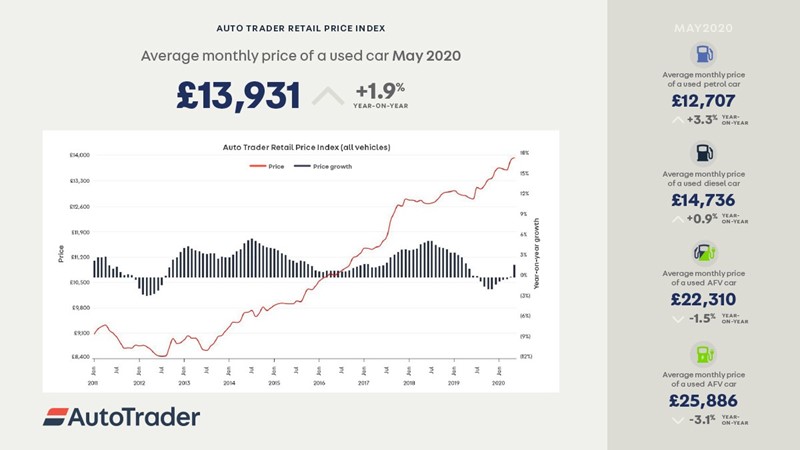 On Monday June 1, when retailers in England were able to reopen their showrooms, this increased, but only marginally, up to 1,381, it added.
Last week an average of just 6,159 vehicles were re-priced each day, down 60% year-on-year and significantly lower than the 17,500 to 24,000 typically adjusted daily.
Auto Trader said that, in normal trading conditions, retailers adjust their stock do so between £250 to £550 per day on average. Last week the average movement was £178.
The majority of those who adjusted their prices as trading from showrooms recommenced in England's showrooms on Monday lowered them with 28% increasing prices.
It said: "It reflects a renewed confidence in the market and the high level of consumer demand being recorded: Auto Trader has seen an average of 1.7 million visits to its marketplace every day (a 5% year-on-year increase), with a peak of 1.8 million on the 1st June."
Advert views have risen 19% year-on-year and the number of leads being sent to retailers increased 75% year-on-year last week, surging to 108% on Monday, Auto Trader claimed.
Looking specifically at new cars, the number of leads increased 111% on Monday from a record stock volume of over 50,000 physical new cars.
Walker said: "The reopening of showrooms in England this week marks an important first step on the industry's road to recovery, but with trade auctions remaining closed, the challenge retailers currently face will not be selling cars, but rather restocking them.
"Such high levels of demand, coupled with a low level of supply, retailers can afford to continue holding firm.
"Retailers should be confident in their pricing and use accurate and up to the minute data, tools and insight to back up their pricing decision."
Shifts in used car pricing as automotive retail begins to ramp-up once again were highlighted as cause for concern by Scottish Motor Trade Association (SMTA) chairman, Sandy Burgess, this week.
Burgess fears that English traders' head-start on showroom trading could see Scottish dealers lose out due to a lesser ability to trade out of depreciating used car stock.
Auto Trader's data identified alternative fuel vehicles (AFV) as a key part of the market experiencing value decline.
While it reported strong performance among internal combustion engine (ICE) vehicles, especially petrol, which continued its upward trajectory AFVs recorded a 1.5% year-on-year decline to £22,310 as pure electric vehicles (EV) declined in value by 3.2% to £25,886.
At 3.3% year-on-year (£12,707), last month marked the highest rate of growth for petrol since March 2019.
Diesel performed similarly well, increasing 0.9% (£14,736) year-on-year, which was its highest rate since April 2019 and the first-time monthly prices haven't contracted since June 2019.