Used car values at BCA's auctions remained stable during July as a 30% increase in volumes sold at its UK sales were met by a strong appetite among retailers.
The remarketing specialist said that car values had averaged £8,517 throughout last month, down by 0.6% (£48) month-on-month, as conversion rates remained strong and its online-focussed channels frequently saw up to 1,500 buyers joining individual events.
Commenting on the continued strength of used car prices at UK auctions this week, Louise Wallis, head of the National Association of Motor Auctions (NAMA) said: "Demand for stock at auctions is currently very strong, which is helping to keep up hammer prices.
"Conversion rates have been robust, and this is likely to continue for good quality desirable vehicles even as supply increases."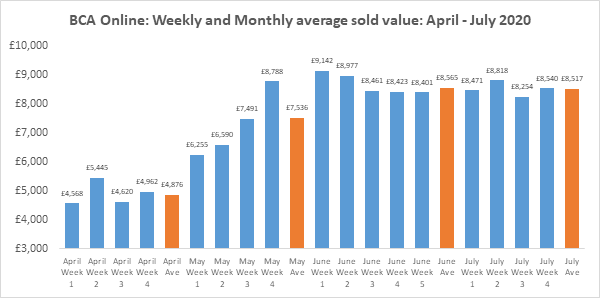 BCA said that it had offered record numbers of vehicles online in July, with daily sales entries typically exceeding 5,500 and often rising above 6,000 – well above the norm for the time of year.
On Wednesday, 29 July, BCA offered nearly 6,300 vehicles in a packed programme of online sales, the highest volume of vehicles ever offered by BCA in online sales on one day.
BCA's chief operating officer for UK Remarketing, Stuart Pearson, said: "Momentum continued into July and BCA has expanded its online remarketing programme significantly to meet the demand, running 20 sales in parallel at any one time, with auctioneers and clerks, vendor representatives and buyers operating remotely and safely socially distanced."
He added: "Daily entries are regularly exceeding 5,500 vehicles and demand across most sectors is ahead of what we would typically see at this time of year.
"Our focus has been on creating online events that are targeted to make it easy for customers to find the stock they need, provide maximum choice, along with the ability to scale quickly to meet the demands of the market."
Auto Trader said that it had experienced a 25% rise in demand for used vehicles last month as prices rose to record levels after Cap HPI reported that values had risen by 0.4% - the month's first price rise since 2009.
Car retailers across the UK are battling to maintain a healthy stock on their forecourts, according to market data published by eBay Motors Group.
It said that car dealers' used vehicle stock levels have declined by 30% year-on-year during July.
Wallis said that she expected auction volumes to increase as the market enters the key plate change month of September, when part-exchange and de-fleeted vehicles are likely to become more plentiful.
BCA said that it had continued to enhance its online auction programme to meet the changing needs of buyers in the post-COVID market, introducing "a more streamlined sales structure" in July.
It also released an update to its Buyer app with the introduction of new functionality allowing customers to place bids on BCA's Bid Now online auction platform.
Pearson said: "We have had up to 1,500 buyers logging in for some individual sales underlining the appetite the market has for the stock on offer at BCA, particularly when this is multiplied across the many concurrent sales taking place each day.
"In addition, the activity through our fixed price BCA Buy Now channel and BCA Bid Now timed auctions has significantly accelerated from the period prior to lockdown, with many customers having the confidence to purchase from these channels for the first time."
Pearson said that there were no signs of the post-lockdown demand for cheaper, more affordable used car stock subsiding, adding that the trend had led to "some unprecedented price increases."