Used car retailers saw their stock turn accelerate by 10 days in September as average advertised prices rose by 1.8%, eBay Motors has reported.
Data collected by the online marketing platform, which combines the Motors.co.uk, Gumtree and eBay retail platforms, showed that seasonal demand had driven the stock-turn improvement over the previous month, drawing closer to the 41.5 days averaged in September 2019.
But signs that limited stock would continue to hamper some retailers' COVID-19 recovery efforts came in analysis which revealed that the average forecourt featured 46.4 vehicles in the key trading month, significantly down on September 2019's 58.3 and a further decline on August's 46.5.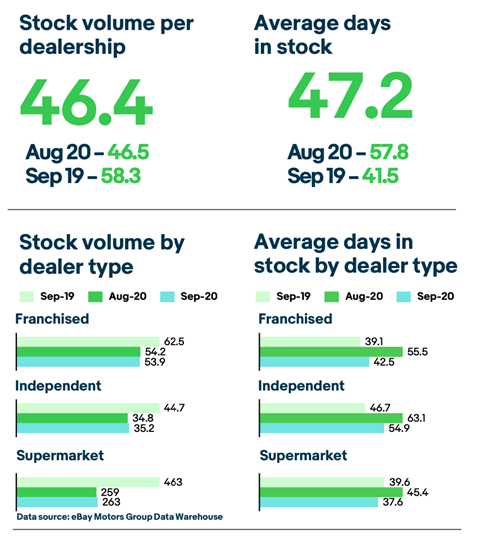 Marc Robinson, head of sales at eBay Motors Group, said: "September's a key month for the used sector with buyer activity stimulated by the plate-change, so it was encouraging to see dealers enjoying a much needed boost with cars being sold significantly faster than at any point since the lockdown.
"While the increase in advertised prices will help bottom lines, supply remains a challenge and we hope this will ease in Q4."
Car supermarkets continue to show the strongest signs of a stock acquisition struggle, with average volumes falling to 263 last month, down 43.2% year-on-year.
Franchised retailers' used car forecourt stock has declined by 13.8% to 53.9 vehicles in the same period, eBay Motors' data revealed.
Limited stock is ensuring that car retailers are working hard to maintain margins, and this is reflected in the rising values already reported by Cap HPI and Auto Trader for the month.
EBay Motors reported that average prices among the top 50 leading makes and models rose 1.8% month-on-month in September to £12,604, with franchised dealer prices experiencing the biggest increase – up 2% to £14,796.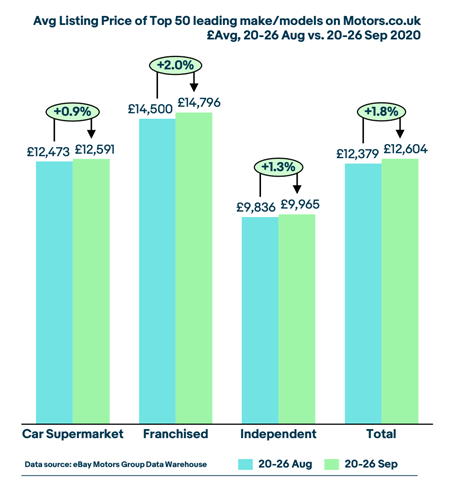 Customer enquiries via telephone and email continued their strong post-lockdown trend, meanwhile, registering a 15% uplift on pre-lockdown levels recorded at the beginning of March, it said.
Online searches for "cars for sale" and "used cars" remained strong throughout September, reflecting consistent consumer interest despite the ongoing challenges presented by the pandemic.
According to eBay Motors data, Audi dominated September's top five fastest-selling used car rankings across its platforms.
The high-performance Audi S3 hatchback sold in an average of just 31.5 days, the larger S5 in 31.7 days.
Mercedes-Benz's A Class followed as the third-fastest seller, taking 31.8 days, with the Audi A1 and Skoda Karoq both averaging 32.2 days.
Despite the decline in demand for diesel cars in the new car market – the Society of Motor Manufacturers and Traders (SMMT) yesterday reported sales down 56.2% to 209,093 YTD in September – they remained popular among used buyers, according to the eBay Motors Group Market View.
It found that used diesel vehicles were selling marginally faster than petrol cars in September, taking 46.3 days (petrol: 46.6 days).
Used alternative fuel vehicles (AFV) took significantly longer to sell year-on-year with electric vehicles averaging 59.8 days, compared to 47.6 days, and hybrids averaging 71.2 days, compared with 44.8 days.