The Hyundai i30 and Mitsubishi Shogun have been listed among Auto Trader's ranking of the used cars that delivered the biggest retail value increases in September.
In a top five otherwise dominated by sports and premium cars, the Korean hatchback sat below the top-placed Jaguar XK coupe and ahead of the Mazda MX-5, while the rugged Shogun 4x4 finished in fourth place, ahead of the Audi RS 3 performance hatchback.
The ranking was compiled as Auto Trader recorded a 21.4% rise in used car values among its advertising inventory during September, with the average price of a used car reaching a record £16,067 after 18 consecutive months of price rises.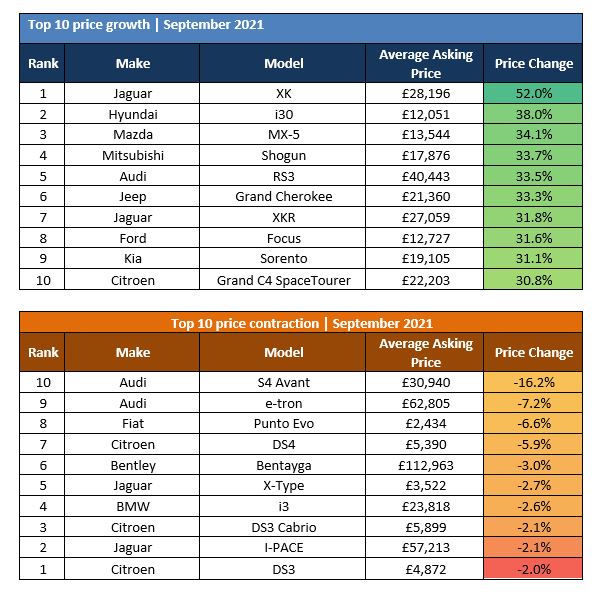 While the XK's value soared by 52% in the month, to £28,196, the more mainstream and high-volume i30's price rose 38% to £12,051.
Other more mainstream product to generate generous price rises included the Ford Focus (up 31.6% to £12,727), the Kia Sorento SUV (up 31.01% to £19,105) and the Citroen Grand C4 Spacetourer MPV (up 30.08% to £22,203).
With winter weather approaching, Mitsubishi's Shogun rose 33.7% to £17,876, according to Auto Trader's data.
At the bottom of Auto Trader's price performance rankings were the Auto A4 Avant and, despite assertions that electric vehicle (EV) demand is growing, e-tron premium SUV.
The A4's value declined 16.2% to £30,940, while the e-tron lost 7.2% of its value last month, yet retained an average advertised value of £62,805.
The data used to compile Auto Trader's ranking of the UKs least and most depreciating used cars is drawn from its monthly Retail Price Index report.
The report draws on daily pricing analysis of over 900,000 vehicles.