MPVs continued to star in Auto Trader's top ten ranking of the used car market's most appreciating vehicles, with the Seat Alhambra emerging as number one in November.
The Spanish brand's seven-seat family vehicle saw 49.5% added to its value last month, according to the online marketing platform, as the Renault Grand Scenic (up 44.2%) and Ford S-Max (up 41.3%) joined it among the sector's most in-demand vehicles.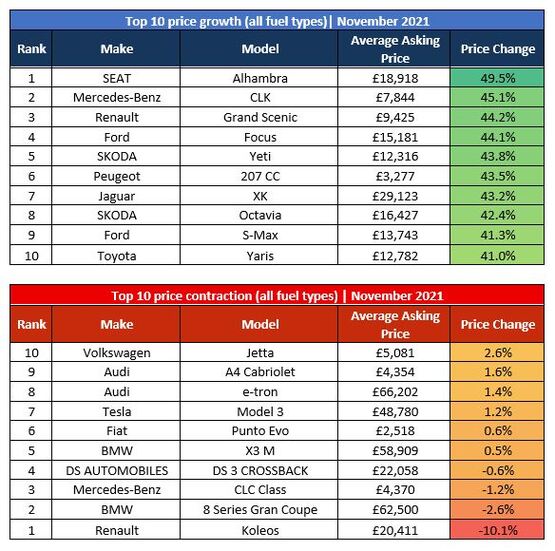 Despite the inclement weather, and the impact of Strom Arwen, Renault's Koleos SUV was Auto Trader's most depreciating vehicle last month – down 10.1%.
The latest movement in valuations were revealed as Auto Trader reported a 20th consecutive month of used car price growth, with prices increasing a record 28.6% on a year-on-year and like-for-like basis.
It said that the average price of a used vehicle on its platform was £17,366 in November, despite a softening of growth from an average week-on-week increase of over 1% in September 2021, to slightly above flat (0.1%) during the final week of November.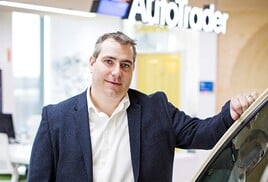 Richard Walker, Auto Trader's director of data and insights, said that there was no end in sight for the growth in retail values, however, echoing the sentiments of Cap HPI head of valuations, Derren Martin.
He said: "There's been some suggestion that the period of huge price growth is coming to an end, or we're finally about to see the 'bubble burst'.
"Beyond what we'd expect for this time of year however, we're seeing absolutely no evidence of that being the case.
"Although week-on-week price movements may continue to soften over the coming weeks, average prices remain nearly 30% above what they were last year."
Auto Trader's market data for November showed that both used petrol and diesel vehicles are recording what it described as "exceptional price growth" – up 29.5% (£16,189) and 29.4% (£17,279) respectively.
Demand for petrol increased 11.3% year-on-year, whilst supply fell 7.4%, as demand for diesel increased by 6% alongside a 14.4% dip in supply.
Prices for both volume and premium electric vehicles (EVs) saw significant month-on-month (MoM) increases, Auto Trader said.
Volume brand EVs increased 27.8% YoY (£25,732), up from 20.7% growth in October, whilst premium brand EVs grew at a rate of 10.1% (£48,564), up from 3.8% the prior month.
Demand saw downward month-on-month movements for both, but remain high with volume EV brands at 75% YoY (down from 130% YoY in October) and premium EV brands at 70.7% YoY (down from 99.4% YoY).
National Franchised Dealers Association (NFDA) chief executive, Sue Robinson, said: "Supply constraints continue to impact the market and as a result it is unsurprising to see used car prices at such high levels.
"In particular, the significant increase for EVs reflects the growing appetite from consumers.
"Despite a number of challenges, especially surrounding supply, dealers are optimistic as consumer confidence remains strong."