Used car buyers have been told they must "get used to a significantly older profile of vehicle" as supply shortages look set to continue into 2023.
Cox Automotive's latest AutoFocus market insight publication stated that the market's volume recovery – triggered by the freer flow of new cars into the market – will be a gradual process with constraints ensuring that scarce nearly-new stock will remain "hot property" until next year.
Philip Nothard, insight and strategy director at Cox Automotive, said: "Although sentiment has started more slowly than expected in 2022, key wholesale indicators are starting to fall more in line with pre-pandemic levels than the same period last year.
"However, the data clearly demonstrates that buyers have to get used to a significantly older profile of vehicle, with stock still at a premium."
Competition for wholesale stock
The remarketing and automotive retail services specialist said that data from its Manheim auctions operation for January 2021 showed an average vehicle age of 100.9 months – up from 89 months last year.
Average mileage also increased from 64,996 to 70,162.
However, despite an older vehicle profile, units are still selling at high numbers due to stock shortages, it said, with the average selling price increasing by £1,917 from last year's £6,133.
CAP Clean conversions also increased from 93.39% to 98.26%, while first-time conversions rose from 77.6% to 83.3%.
Last week Auto Trader reported that more than one-in-five nearly-new used cars were now priced higher than their new equivalents, due to OEM's lengthy lead times.
A chart published by Cox showed the strength of the market in the zero-to-one and one-to-two-year age brackets where stock is currently most scarce.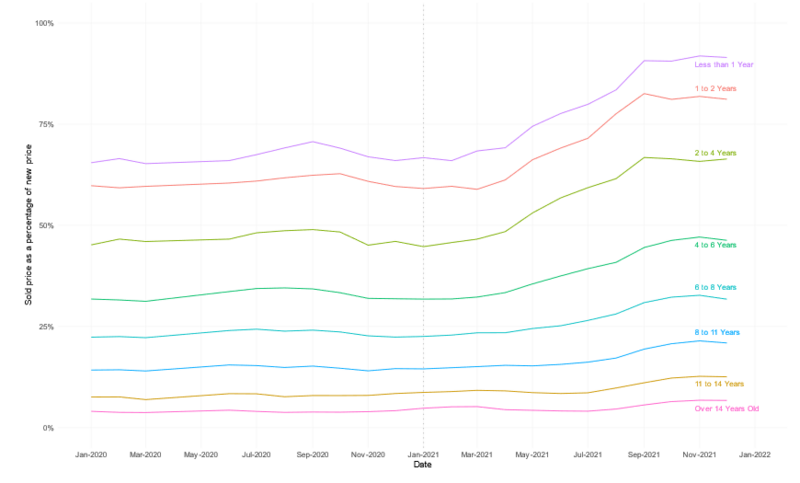 Nothard said that competition for stock looks likely to maintain high wholesale used car values as new car supplies remain constrained throughout 2022.
He said: "It's increasingly likely that we will see a continuation of many of the market dynamics we saw in 2021.
"Although there are signs of new vehicle supply returning, it is currently very dependent on those manufacturers who have managed to secure the necessary materials to build vehicles and therefore keep production lines running.
"As a result, we will not see a flood of stock enter the market, but rather a gradual increase as the backlog of orders for new vehicles gets cleared, in turn generating much-needed stock for the used market."
2022 used car retail forecasts
Cox forecasts that Q1 2022 will deliver 1.956m used car transactions, a 15.9% increase year-on-year and 4.2% up on the 2001-2019 average, but 3.2% down when compared with the most recent pre-pandemic 2019 performance.
Q2 2022 is likely to end on 2.003m transactions, it said, a 7.6% decrease year-on-year and 4.2% up on the 2001-2019 average but 1.5% down compared to 2019.
It believes 2022 will end on around 7.701m used car transactions, a 4.2% increase year-on-year compared to 2021's forecast of 7.392 million.
This would be a 4.4% increase compared to the 2001-2019 average, it said, but a 3.0% decrease compared to the most recent 2019 pre-pandemic performance.
Nothard said: "The concern is that values will start to decrease at a time when profitability per unit is more vital than ever, but current supply and demand levels won't allow that to happen.
"As long as new car supply issues remain and used cars continue to be dripped into the market rather than released like a tsunami, then natural market dynamics dictate that values will remain at current levels for some time."