Record UK inflation was accompanied by a further 29% year-on-year rise in used car values during January, according to data published by Auto Trader.
The online automotive marketplace's Retail Price Index report said that the average price of a car advertised on its portal reached £20,340 last week – marking a £4,200 rise in just six months.
Ongoing vehicle supply shortages and strong customer demand was once again credited for what was a 93rd consecutive week of price growth on Auto Trader.
Last month's price hikes also came as UK inflation increased to the highest rate for three decades, the rate hitting 5.5% last month.
Auto Trader data and insights director, Richard Walker, said: "Although inflation will always pose a potential headwind for demand, based on the positive consumer metrics we're tracking across the retail market, as well as broader economic factors such as the falling unemployment rate and record number of job vacancies, we don't anticipate any significant easing any time soon.
"Accordingly, with such strong levels of demand, and no end in sight for the current supply challenges, we can expect the strong year-on-year price growth to continue well into the middle of the year."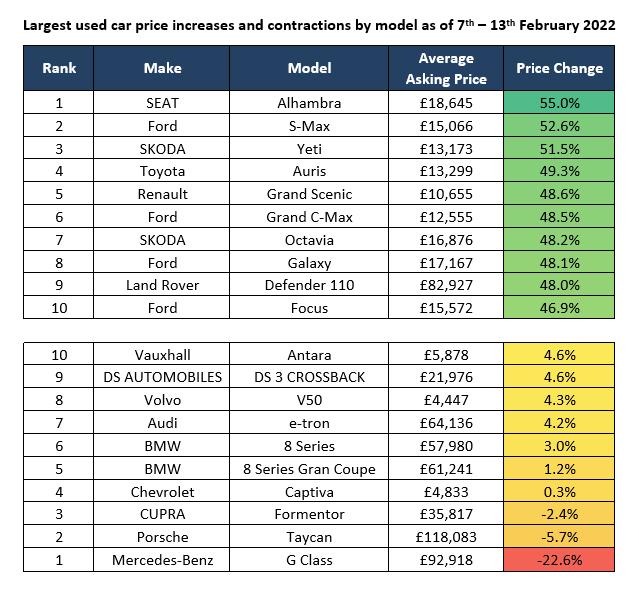 Car buyer demand for an MPV segment out-of-favour with OEMs now focussed on SUV and electric vehicle (EV) saw a number of the family-friendly models once again emerged as the UK's most appreciating vehicles last week.
The Seat Alhambra, Ford S-Max and Renault Grand Scenic were among the best-performers.
At the other end of the scale, nearly new models the Cupra Formentor and Porsche Taycan EV emerged as the most depreciating cars on Auto Trader – albeit by just 2.7% and 5.4% - as the Mercedes-Benz G Class finished as the platform's worst performer with a dip of 22.6%.
Auto Trader said that an average selling time of just 26 days – a slight slow-down on the average 25 days recorded in pre-COVID February 2020 – was one indicator of the strong consumer demand.
Furthermore, its recent consumer sentiment survey suggested that 26% of 4,100 respondents intend to purchase a vehicle within the next three months, whilst 37% intend to do so within two weeks – up from 35% in December.
Almost a third (32%) of those surveyed believe car ownership is more important today than it was pre-COVID, while more than half (51%) feel more confident in their ability to afford their next car than they did a year ago, which marks the highest figure since June 2021, Auto Trader added.