Wholesale prices for used LCVs averaged £9,851 at BCA in February 2023, with sustained buyer demand keeping values firm as the strong start to the year continued.
Sold volumes improved compared to January, although were values slightly down on last month. Performance against price guides improved sharply to 105.7%, a rise of 3 percentage points, month on month.
With a slowly improving economic outlook, business confidence is improving among SMEs, which is likely to be helping to drive demand within the used LCV sector.
The UK's used LCV market got off to "a flying start" in 2023, according to Manheim, as an easing of supply issues saw a glut of "pandemic worn condition" vans enter the auction halls.
BCA's weekly valuation reports show that average values were relatively steady throughout February, following a steep climb earlier in the year, suggesting that supply and demand are currently well balanced.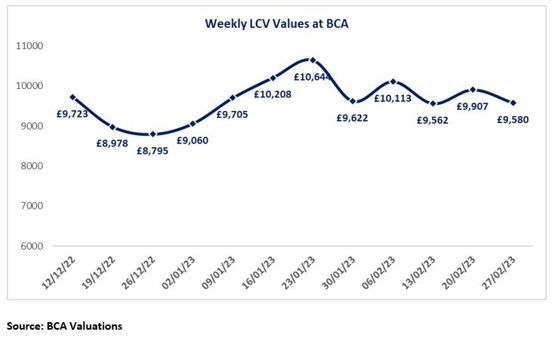 Stuart Pearson (pictured), BCA COO UK, said: "Following a good start for the used LCV sector in January, we have experienced more of the same in February with robust price performance and rising volumes of vehicles sold. Also, with the economic landscape starting to look a little brighter and improved confidence levels amongst small businesses, we expect used LCV values to remain fairly resilient for some time.
"While there has been an improving picture in the new LCV sector for a number of months, it will be some time before we see any significant volume of younger vans reaching the used market. We're also entering the third anniversary period of the first COVID lockdown when there was minimal activity in the light commercial sector for a few months, and that means a potential dearth of three-year-old stock until the summer. Taking all these factors into account, it is likely the marketplace for LCVs will remain competitive for some months to come."