Author: Rupert Pontin (pictured), director of valuations at Cazana
Retail car sales for the month of July in both the new and used car markets were noticeably more difficult over the course of the month.
According to the SMMT data, new car registrations for the private sector were down 0.1% when compared with July 2017 and for the year to date this sector is now running at 4.4% lower than it was in 2017.
In addition, used car sale data from the SMMT show similar levels of used car transactions as last year although there are differing views in the industry over the size of this market for 2018 as a full year.
There is little doubt that the outstanding weather had a part to play in the more difficult trading conditions, with retailers struggling at times to attract buyers that were keen to make the most of the heat and spend more time enjoying outdoor leisure pursuits.
However, economic concerns have also played a significant part with the inflation rate rising as well as the cost of living increasing.
Increasing fuel costs have been one of the key drivers.
There was also concern that the Bank of England base interest rate would rise, and this has subsequently happened and will perhaps bring more hardship to the market during August.
The chart below shows consumer confidence levels in the UK over the last year:-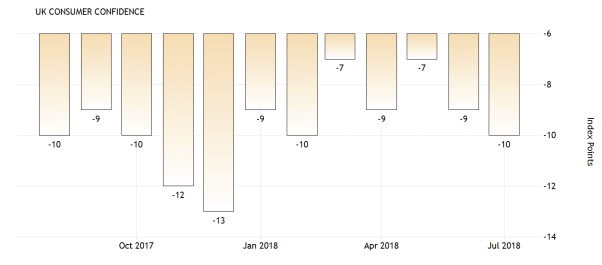 Data from tradingeconomics.com GFK (UK)
In circumstances such as these, it is not uncommon for there to be a change in retail consumer focus away from more costly cars to those that are cheaper to buy and run.
This could be one of the reasons that the industry is expecting a good full year used car sales result at the expense of new car sales.
It can also be an excuse for the wholesale buyers to seek to pay less money for cars across the board.
But quite often the retail asking prices tend to be unaffected by this type of scenario with perhaps changes to the amount of money given off the retail asking price by the dealer increasing or the days to sale extending slightly.
Consumers consider hybrids and electrics to save money
Interestingly, there has also been an anecdotal discussion that in recent weeks there has been an increase in demand for hybrid and electric vehicles as retail consumers consider ways to save money.
As such it is worth reviewing the performance of these cars in today's retail market and the next chart looks at their performance from a retail pricing perspective.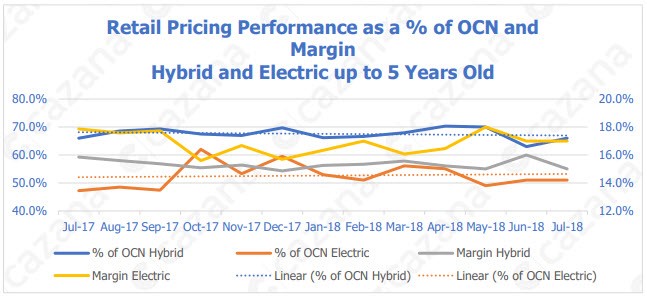 This chart demonstrates that there is a high level of volatility in the retail asking prices of electric cars and this is often due to the volumes and types of cars on sale at any given time.
It is of note that there is an upward trendline and the percentage of original cost new for electric vehicles has improved year on year by 2.5 percentage points.
Hybrid pricing sits at a much higher level and although the trendline shows a slight downturn the residual value percentage of original cost new has in fact remained at 66% which is exactly the same as July 2017.
However, it is interesting to note that the margin achieved for electric vehicles is greater than that of a hybrid.
This is likely to be because the gross margin needs to be higher as these cars take longer to sell.
As confidence in electric vehicles grows and electric ranges and the charging infrastructure improve the residual value will also increase.
In the last 10 years when there has been a change in economic fortunes there have been certain market sectors that have performed better than others.
Specifically, when retail buyers seek enhanced value for more they have historically considered rewarding themselves with an executive sector car such as a BMW 5 Series or Mercedes E Class and as such retail asking prices have improved.
As the industry may be moving to more difficult times the next chart below shows retail pricing performance of the executive sector: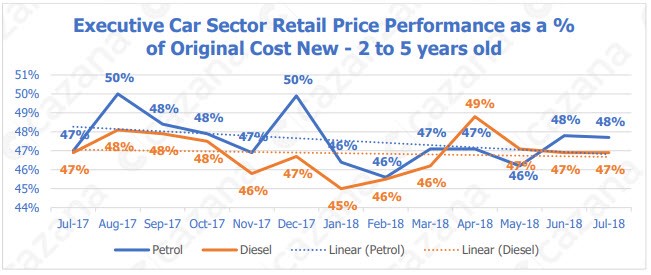 This chart demonstrates that performance in the executive sector has remained quite stable over the last twelve months.
Both petrol and diesel cars have shown a level of volatility although essentially the diesel car trendline shows greater stability with retail pricing as a percentage of cost new remaining the same this month as it was in July 2017.
In contrast, petrol powered cars have shown greater pricing variance but have improved year on year by 1 percentage point.
Therefore, at the moment the retail consumer is not showing specifically greater interest in this sector.
In summary, July 2018 has been a more challenging month than this time last year more difficult than May and June as economic factors have started to change.
Both wholesale and retail markets have been affected and it has meant some extra work with the retail consumer to overcome confidence and also some tenacity to buy the right stock at the right price.
Working with truly live retail data will ensure that any changes in the market are immediately apparent and therefore relevant pricing and commercial strategies can be updated along the way.