The new Citroën C4 sits in between the traditional hatchback and crossover segments, reflecting the current desire among buyers to drive rugged-looking vehicles.
As a result, the new C4 not only replaces the old version but also the Citroen Cactus.
Its exterior styling reflects the brand's quirky nature, with large headlights and a split rear windscreen. Yet, on the inside things are quite a bit more conventional and it lacks some of the flair that the C3 and C5 Aircross provide.
The interior is dominated by black plastic. Aside from some coloured trim pieces on the door cards and a bit of shiny trim around the air vents, it's a tad drab when compared with the exterior. Thankfully, the usability of the C4's interior is much better. There's conventional heating controls, rather than a sub-menu within the infotainment system, and the materials used on the steering wheel, gear selector and other switchgear feel upmarket.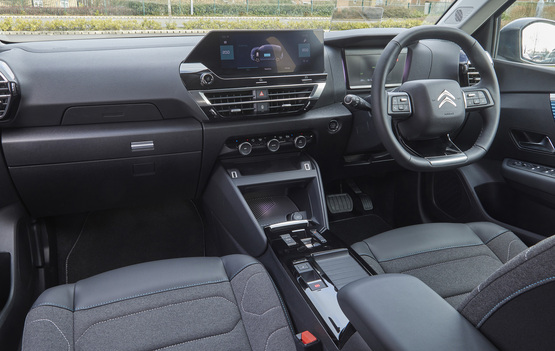 Alongside petrol and diesel options the fully electric e-C4 is also available. It makes use of the same motor and battery setup as you'll find across the Stellantis' electric line-up, offering 136PS and a range of 217 miles.
The petrol-powered PureTech 130 is expected to be the best selling model. It uses a 1.2-litre turbocharged three-cylinder unit paired with a six-speed manual or eight speed auto. The engine feels lively, delivering punchy acceleration accompanied by a satisfying engine note.
A lower-powered version of the same engine, serving up 100PS, will be available from May and will form the entry-level of the range. There will also be a range-topping 155PS model.
For drivers doing the highest mileages, BlueHDI versions with 110PS and 130PS are offered, achieving more than 60mpg. These are expected to account for less than 20% of ICE sales, however.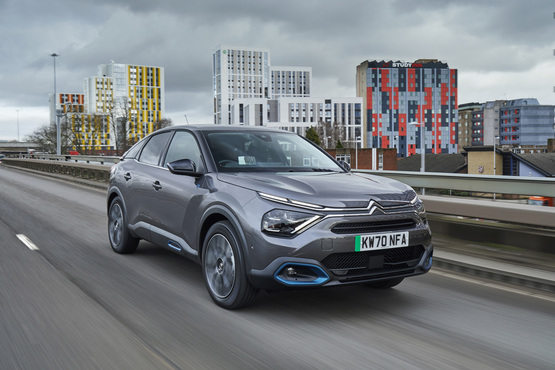 The C4's Advance Comfort suspension has been dialled in just right. It rides beautifully, ironing out all the imperfections on the roads and giving levels of comfort you'd expect from a car that cost three times as much. When cornering, the car does pitch about a little initially; but grip levels are strong and the C4 encourages you to drive it quickly.
Sound deadening is another strong point. There's very little road noise and the sleek body helps to keep wind noise to a minimum. In short, long journeys in the C4 are a delight.
Things are even better in the ë-C4. The weight of the battery in the chassis enhances the already enjoyable driving characteristics and the suspension settings are a tad firmer, making it the most engaging to drive.
Don't expect lightning acceleration, though. The e-C4 performs similarly to the petrol model, albeit with a slightly more immediate throttle response. Its 0-60mph time of nine seconds is 0.1s behind the petrol version.
The range of 217 miles, or an indicated 206 miles in our fully-charged test car, requires a fairly timid driving style. During our time in the ë-C4 we averaged 3.3mi/kWh, which would suggest a real-world range of roughly 150 miles.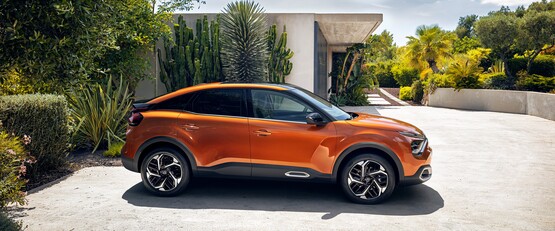 An 80% charge can take as little as 30 minutes when using a 100kW rapid charger, but a regular 7kW home charger will take around seven-and-a-half hours to replenish the battery.
In terms of rivals, the C4 sits alongside the regular crop of hatches, like the VW Golf, but could also compete with the likes of Toyota's C-HR and the Nissan Juke.
Pricing from £21,000 makes it particularly attractive, although the ë-C4 is almost £10,000 more. The C4 is a good all-rounder, and will particularly suit customers that seek its combination of bold exterior and conservative, well-equipped interior.
The C4 range is divided across four trims: Sense, Sense Plus, Shine and Shine Plus. They all feature a 10-inch touchscreen infotainment system, which uses familiar PSA software. There's also a 5.5-inch digital instrument cluster, which is less impressive than some other brands offer. All models get LED headlights, parking sensors and lane-keeping assist.
The ë-C4 is not available in the base trim, but Sense Plus comes with sat-nav, a reversing camera and power-folding door mirrors.
Shine adds keyless entry, tinted windows and adaptive cruise control. It also has an enhanced active safety brake system that can detect cyclists. Shine Plus adds heated front seats, leather upholstery and an upgraded stereo system.
Q&A with Tim Marshall, UK product manager, Citroen
Please describe the new C4's market position and what are its key rivals?
New C4 is positioned as a distinctive and comfortable choice at the heart of the C-hatch segment. In terms of styling it offers the dynamism of a hatchback while incorporating references to SUV design elements. It elevates the standard of comfort within this segment, thanks to its Citroën Advanced Comfort features and generous interior space (including class-leading rear legroom), and offers an unrivalled choice of powertrains – 100% electric, petrol or diesel. Other key vehicles in this segment include Ford Focus, Hyundai i30, Renault Mégane, Toyota Corolla and Volkswagen Golf.
Are there any new features of technology that have not been offered on C4 or other Citroën models before?
New ë-C4 and C4 bring a range of stand-out technology and features, from advanced driver assistance systems to thoughtful innovations designed to make life on board more comfortable. Citroën Smart Pad Support is one of those innovations – a Citroën original, it lets the front passenger securely attach a tablet to a retractable, yet robust, mount, so they can enjoy watching content in comfort without distracting the driver.
New C4 also brings features that Citroën hasn't offered in this segment before, such as Highway Driver Assist (a level 2 semi-autonomous driving technology), driver's head-up display, and lateral parking aid. Until recently such technology would have been optional in the most expensive market segments, but all are standard on selected versions of C4, continuing Citroën's heritage of making advanced technology available to all.
Some manufacturers are removing diesel engines from their model ranges. Why did you decide to offer it as part of the C4 line-up and what are the sales expectations?
While the diesel share of the market has indeed decreased over recent years, there continues to be demand, particularly in the fleet sector, for cars with efficient diesel engines. The CMP platform that C4 is based on supports electric, petrol or diesel motors by design, so we can offer the choice of the right powertrain for everyone.
Furthermore, because of the efficiency of this platform and of C4 in general, the Euro 6d diesel versions have very low CO2 (from 120g/km WLTP combined) and excellent fuel economy, making a strong case for themselves particularly where users are driving longer distances. We anticipate diesel accounting for 17% of our overall ICE mix on C4.
Will the ë-C4 be limited by volume and what % of sales do you expect via retail channels?
Based on our market analysis, we naturally have set volume objectives for ë-C4. However, we appreciate that this is a dynamic market, so, of course, we're constantly looking at the trajectory of order take by powertrain to make sure we're planning the right build mix.
As ë-C4 is a key step of our electric offensive we aren't planning to limit volume. We have forecast ë-C4 UK sales to account for 30% of the overall C4 mix.